Vol. 2, Issue 1 – 01.07.21
The Houston Health Department has launched an online registration portal allowing Houstonians at the highest risk of coronavirus disease to schedule appointments to receive free COVID-19 vaccinations. People age 65 and older and people age 18 and older with at least one chronic medical condition putting them at increased risk of severe illness and death may sign up to get the vaccine. These groups are prioritized as Phase 1B of the State of Texas' vaccine distribution plan.

Appointments are also available through the health department's COVID-19 call center by calling 832-393-4220. The call center is open Monday through Saturday from 7:30 a.m. to 4 p.m. with hours extended until 5 p.m. on Tuesdays and Thursdays.

However, all appointments for Houston Health Department vaccine clinics are filled for the remainder of January 2021, based on the department's current vaccine allotment, and the department is not taking additional appointments at this time. The department will announce additional vaccination opportunities at multi-service centers, health centers, community locations, and mobile units as supply increases. We will include announcements here in our newsletter, accordingly.
Our updated positivity rate is now at 13.9% – the highest since the July peak. Please continue to limit gatherings, wash your hands, wear a mask, and get tested. #BetterTogether #ProtectTheH
FREE Drive-Thru COVID-19 Testing at Crump Stadium – 12321 Alief Clodine Rd, 77082
NO APPOINTMENT NEEDED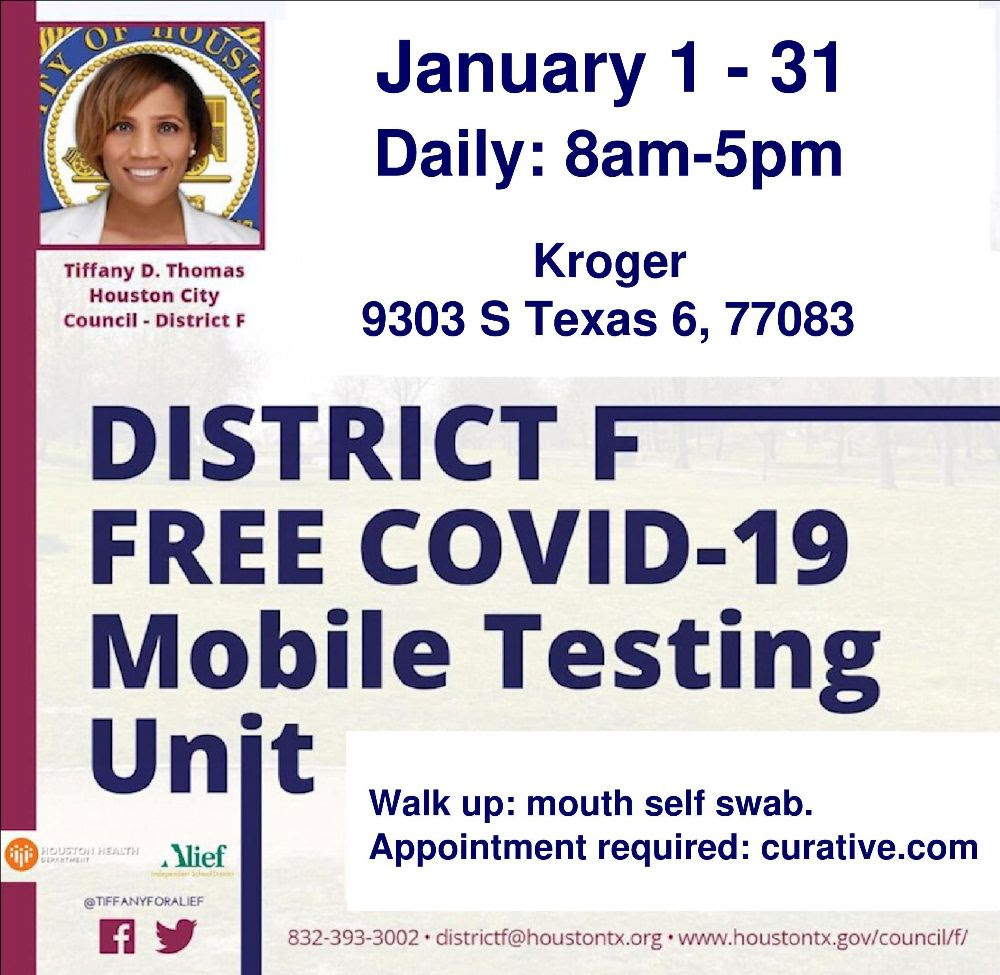 FREE Drive-Thru COVID-19 Testing at Kroger – 9303 S Texas 6, 77083
APPOINTMENT REQUIRED: CURATIVE.COM
FREE Drive-Thru COVID-19 Testing at Kroger – 1801 S Voss Rd, 77057
APPOINTMENT REQUIRED: CURATIVE.COM
FREE In-Home COVID-19 Testing
Did you know that residents of Harris County are eligible for at-home testing for COVID-19? It's true! You can even schedule larger group testing for your church, neighborhood, or club. Just call 832-393-4301 or toll free 1-800-213-8471 to schedule a time, date, and location.
Please assist the City and our office by continuing to submit service requests to 311 and saving your service request numbers. By providing us with the service request numbers and photos, we will be able to work more efficiently on your behalf.

Submit requests by dialing 311, using the 311 website, or emailing 311@houstontx.gov,
Please provide up to date information about your HOA in order for us to keep in contact with you. Click on the image to fill in your information.
Our office is currently accepting proclamation submissions for Black History Month. If you would like to nominate a community member or organization that is deserving, we want to know! Please email our office at DistrictF@houstontx.gov.
At Wednesday's Council Meeting, Council Member Thomas dedicated her pop-off comments to the active investigation into the fire that recently occurred at H2O Bar and Club (9277 Richmond Ave), the Department of Neighborhoods for their work in the Westmont subdivision, group homes in District F, the extension of free COVID-19 testing, distribution of eviction moratorium flyers, and the Housing and Community Affairs meeting scheduled on 1/26.
The City of Houston's Rental Assistance Program is still accepting enrollment from landlords and renters. To receive up to $2,112 for past due rent for September, October and November, apply here.
If your landlord does not want to enroll in this program, visit this portal to enter your information.
The nationwide eviction moratorium has been extended through January 31, 2021.
In order to be covered by this moratorium, you must sign and submit a declaration to your landlord. The updated moratorium and declaration are available here in English, Spanish, Vietnamese, Chinese, Arabic, Urdu, and French.
If the Rental Assistance Program does not cover the full amount that you owe to your landlord, please ask your landlord to enter into a payment plan. Templates are available here. For guidance on how to speak with your landlord about this topic, click here. For additional tenant resources, click here.
Texas Eviction Diversion Program (TEDP)
Before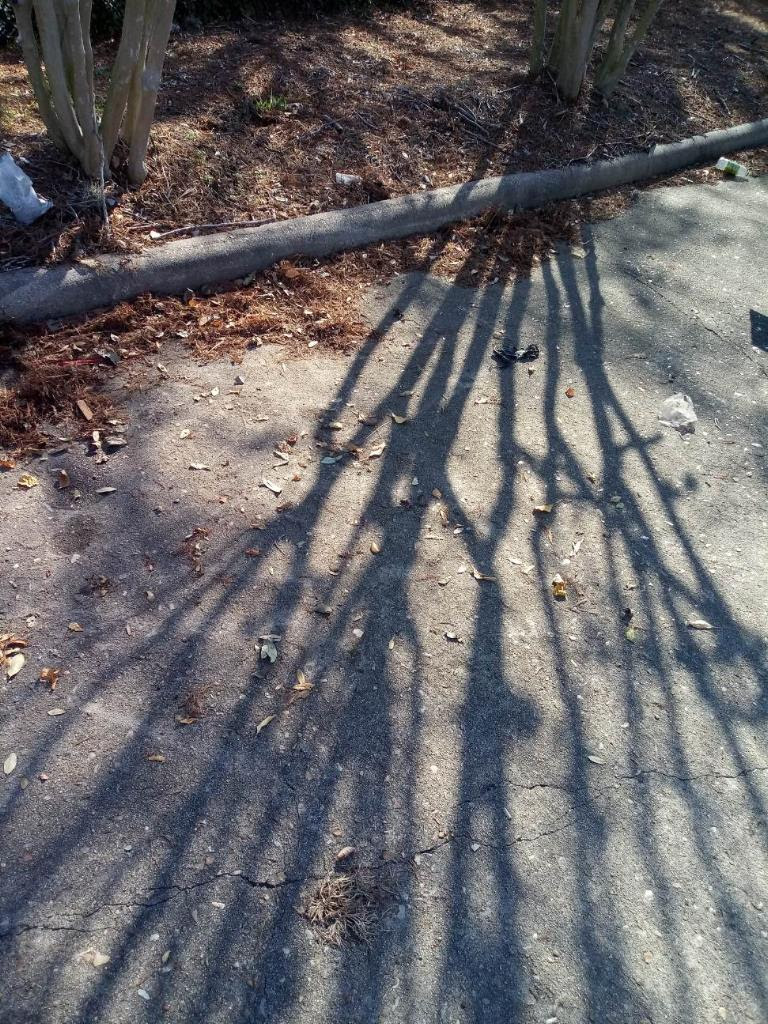 After
Our HOT team has just cleaned up a dumping site at 3600 Overture Dr, 77082. Please continue to let us know where the hot spots are.
Report illegal dumping to 311 first.
After you receive the confirmation email with the service request number, forward the email to DistrictFHot@houstontx.gov. If you have photos, please send them as well.
The HOT team will not pick up items located on private property.
Junk Waste not accepted: roofing, shingles, bricks, plaster, concrete, and large truck tires.
Tree Waste not accepted: lumber and treated wood.
Storm Water Action Team (SWAT) Project Update
SWAT projects aim to improve drainage and mitigate flooding citywide through repair and replacement of storm sewer lines, re-establishment of roadside ditches, resizing culverts, and rehabilitation of off-road ditches & detention ponds.
Please be advised that rehabilitation work along Westerland Dr at Highmeadow Dr, Meadowbriar Ln, Meadowglen Ln, and Meadowcroft Dr is scheduled to commence on Monday, January 25th, 2021, and end by Tuesday, May 25th, 2021.
Anti-Litter Pickers
Our office will be distributing anti-litter pickers to assist with cleaning up our community. To request pickers, please click on the image and fill out the form.
To better understand how this development can affect neighborhoods in Houston, the Planning Department has created an interactive activity inviting the public to drop a pin on the map tool, upload photos, and answer a few short questions about tall structures in their community. This map tool provides a platform for residents to provide comments and direct our attention to specific circumstances. These comments will be compiled and presented to the Livable Places Action Committee when they meet on January 12th. During this meeting, the Committee will review existing Residential Buffering requirements and consider ideas to better resolve the negative effects some tall structures may have on neighborhoods. The more information we receive from the public, the better our proposals will be!
Housing and Community Affairs Committee Meeting
Tuesday, January 26th
10AM
2021 Meeting Dates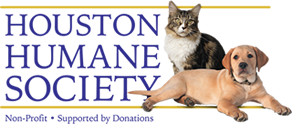 Houston Humane Society Pet Pantry Distribution*
Wednesday, January 27th
1PM – 3PM
Crump Stadium
12321 High Star Dr, 77072
*We are looking for volunteers to assist with this event. If you are interested, please contact Idalid "Idi" Navarro at Idalid.Navarro@houstontx.gov.