Vol. 3, Issue 19 – 07.22.22
WEEK OF JULY 11
HOT SPOT TEAM HIGHLIGHT
Total Work Orders Completed: 18
Hotspot of the Week: 11031 Landsway
Total Man Hours Worked: 48
Tree Waste: 330 lbs.
Mattresses: 7
Furniture Waste: 11 pieces
Tires: 28
Trash Debris: 270 lbs.
Shopping Carts: 8
Bandit Signs: 126
Landscaping: none
Update: None
Schedule: MTWTHF
"District F Councilmember Tiffany D. Thomas got so many calls about illegal dumping in District F that she created a Hot Spot team. Last year, her team cleared more than 15,110 pounds of tree waste, 125 mattresses, 253 pieces of furniture, 563 tires, 26,220 pounds of trash, and 175 shopping carts."
Great Houston Chronicle feature on the prodigious effort we are making to address illegal dumping in our neighborhoods. Special thank you to the countless number of residents that send photos, emails, and 311 service requests to our office to resolve.
When you see the hot spot team in action please tell them THANK YOU!
Let's keep the westside the best side and keep us clean!
Link: https://www.houstonchronicle.com/news/houston-texas/houston/article/Illegal-trash-drives-the-most-complaints-on-these-17300778.php
SOLID WASTE OPERATIONS UPDATE
As of 07/21/2022 –

We are currently experiencing delays with our curbside recycling service. All recycling containers will be serviced. Please remain patient and leave your container at the curb.

For more information, visit the Neighborhood Depository/Recycling Center web page here or call 3-1-1. You may also use the following resources.

Facebook- Updated daily
Link: City of Houston Solid Waste Management – Posts | Facebook

HTX Collects- an app used to update you about your service in real-time. You can also use the link on the website to get an update.
Link: http://www.houstontx.gov/solidwaste/htxcollects.html
Hurricane Season began on June 1, 2022, and ends on November 30, 2022. It ts important to stay safe—we never know when a hurricane might hit. Below is the hurricane preparedness graphic created for District F residents. Please share this graphic with neighbors, especially those most vulnerable and who don't have internet access. Additionally, using the list in the graphic, be sure to pack an emergency kit. Here is some helpful information:

Our office is here to assist. We have partnered with the Houston Toolbank and local organizations to support immediate recovery needs and will provide more information next month. If you need an emergency guide or further information, please email districtf@houstontx.gov or call 832-393-3002.

Find more resources here.
Last week, the National Weather Service has issued an excessive heat advisory for the Houston region.

The City of Houston activated its Public Health Heat Emergency Plan. Houston activates the plan when the heat index, a computation of air temperature and humidity, reaches 108 on two consecutive days.

Below are some tips from the Department of Neighborhoods on how to protect yourself and others during excessive heat.

Find more resources, including information about cooling centers here.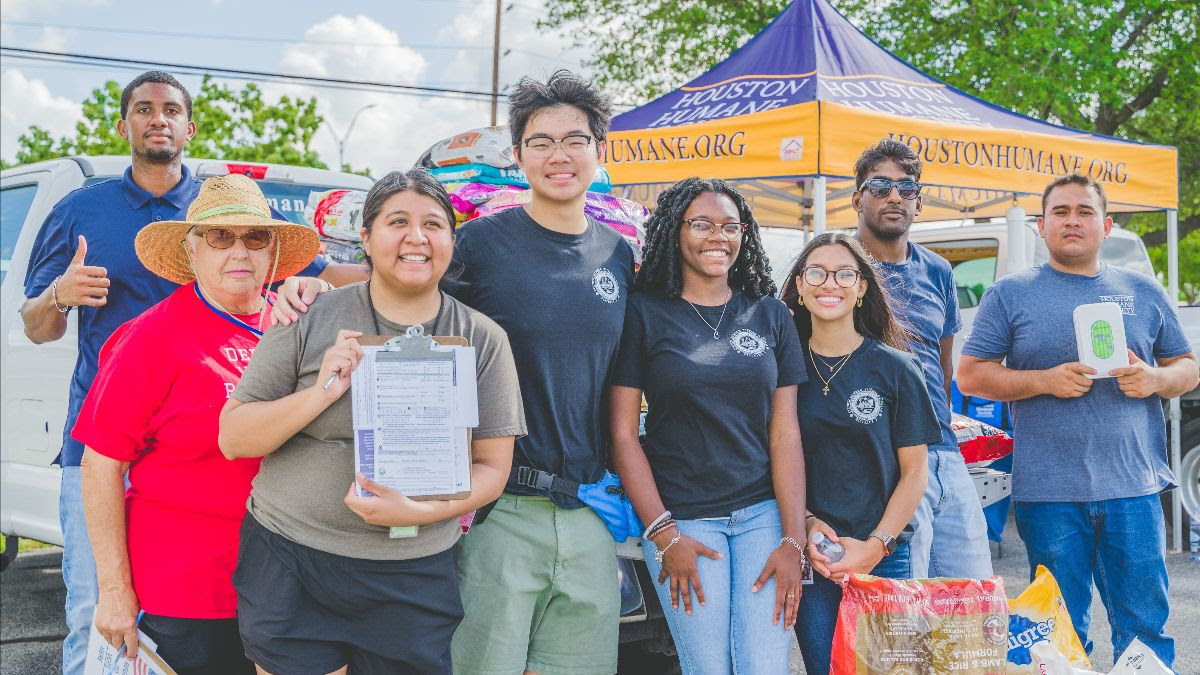 On July 19th, our District F interns; Cha'Liyah Atkins, Izabella Garcia and Fredrick Wilson III held a Pet Pantry Event with Houston Humane Society at Leroy Crump Stadium in Alief. Together, they served 58 households and 239 pets, distributing 2,000 pounds of pet food or 6,400 total pet meals.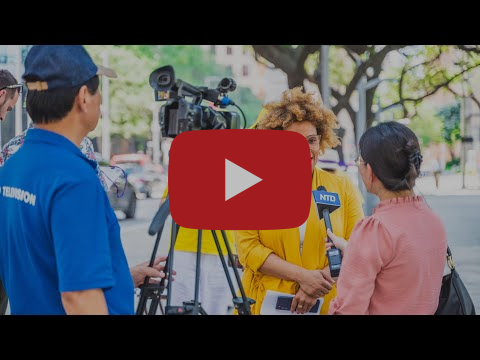 On July 20th, Councilmember Thomas attended and spoke at the Rally to Call for an End to the 23-Year Religious Persecution of Falun Gong in China.
On July 20th, in response to the tragic hit and run of a teen near the district, Councilmember Thomas spoke with Fox 26 about discuss the types of investments she is making in sidewalks, street lighting and animal sweeps to prevent senseless deaths.
Below is a snapshot of District F council district service funds for FY 22.

This is a culmination of our collective work.

As you can see public safety, neighborhood reinvestment, and quality of life remain top priorities. Majority of the projects funded were constituent driven and I am proud of that.

Investing in basic infrastructure such as sidewalks, streets, public facility enhancements will keep District F the best side on the westside.
DISTRICT F COUNCIL ITEMS
July 13, 2022
Item #1 Houston Public Works requests City Council to set a date for a public hearing regarding the implementation of multi-use detention in the following parks: Boone Park, Hackberry Park, Cambridge Village Park, Edgewood Park, and EP Hill Park.
Item #18 The Chief of Police for the Houston Police Department recommends City Council increase spending authority for the current lease agreement (OA 4600011562) with the Star of Hope for the Houston Recovery Center, also known as the Sobering Center. The lease agreement's 10 year term commencement on 1/1/2013 will expire on 12/31/2022. There are two 5-year extension options. The first extension has been exercised and requires additional spending authority. HPD is requesting to increase of the maximum contract amount from $6,107,994.55 to $7,188,692.01 which represents an increase of $1,080,697.468
Learn more here.
July 20, 2022
Item #32 Ordinance making certain findings related to the use of approximately 9.76 acres of land out of Boone Road Park in connection with a project to construct Regional Stormwater Detention and install related Detention Facilities
Item #33 Ordinance making certain findings related to the use of approximately 9.1 acres of land out of Hackberry Park in connection with a project to construct Regional Stormwater Detention and install related Detention Facilities
Item #39 Ordinance appropriating $21,084,000.00 out of Water & Sewer System Consolidated Construction Fund, awarding contract to BRH-GARVER CONSTRUCTION, L.L.C. for Chelford City Diversion Package 2; setting a deadline for the bidder's execution of the contract and delivery of all bonds, insurance, and other required contract documents to the City; holding the bidder in default if it fails to meet the deadlines; providing funding for CIP Cost Recovery relating to construction of facilities financed by the Water & Sewer System Consolidated Construction Fund; contingency, testing services, and construction management –
Learn more here.
On July 13th and 20th, 2022, Councilmember Thomas along with Dave Gilkeson from Westchase Management District, Kendall Baker, 566 Precinct Chair, and Lisa Iparrea from West Houston Assistance Ministries gave comments at City Council on the current status of redistricting in District F.
SUBSCRIBE TO NEIGHBORHOOD UPDATES
Phone messages in English and Spanishnotify residents about city services, new programs & civic engagement opportunities
Voice/text messages a convenient servicefor residents without easy access to internet sources
The Department of Neighborhoods (DON) invites residents to subscribe to Neighborhood Updates to receive brief voice or text messages in Spanish or English about essential services and resources.
The messaging service is for everyone, especially for seniors and others who may not have easy access to online information, persons with disabilities who need information in audio or written format, and residents who prefer notices in Spanish.
Learn more about the lifeguard shortage here.
Our office is giving away Houston Zoo Tickets that will be eligible for use until the end of this year.

Tickets will be distributed on a first come, first serve basis, 5 tickets per household. To contact us for additional information you can give us a call at 832-393-3002 or send us an email at DistrictF@Houstontx.gov. List will close by September 2nd. Fill out the form for tickets here.
Backpacks, school supplies, school vaccinations, and COVID-19 testing and vaccines will be available for Alief residents at the Alief Community Health Fair that will be held at Bush Elementary School on Saturday, July 30. www.aliefisd.net/healthfair for more information.
Visit
Alief ISD's Full-Day Pre-K Program: A New Way to Pre-K!
Alief ISD is investing in a new way to Pre-K by creating innovative experiences for Pre-Kindergarten children that takes learning beyond the four walls of the classroom!
The new Innovative Interactive FULL-Day Pre-K program provides hands-on, immersive, purposeful and playful experiences that build important background knowledge and vocabulary necessary for Kindergarten readiness, as well as future educational success.
Spots are filling up quickly! To apply online, visit www.aliefisd.net/reserve. Call 281-988-3100 for assistance.
HOUSTON PUBLIC LIBRARY EVENTS
Family CraftJuly 20, 2022 – August 12, 2022

2:00pm – 3:00pm

Central Library, 1st floor Gallery

Bring the whole family! All hands on deck for this interactive, cross generational crafting experience. Join Ms. Mary Tuesdays through Fridays at the Central Library to help sculpt and decorate a life-size, great white shark.

Once it is complete, you'll also have a chance to name it! #ILoveHPL

Young at Art: A Selection of Caldecott Book Illustrations

July 5, 2022 – August 13, 2022

Julia Ideson Building Exhibit Hall

Opened to the public on July 5, 2022, at the historic Julia Ideson Building, is Young at Art: A Selection of Caldecott Book Illustrations.

This exhibition includes original artwork from Caldecott Medal recipients and "runner-up" Honor books, as well as other illustrations by award-winning artists.

HPL History Research Centers Present: Inside the Walls: History of the Astrodome – The Making of a Houston Landmark
Friday, August 5, 2022
10:00am-11:00am
Virtual Event
Join us for a real-time virtual presentation about the creation of the Astrodome, one of the most well-known landmarks in Houston's history.
The presentation will feature photos from the Houston Metropolitan Research Center's special collections showing early promotional ads, construction of the dome, and the lavish interiors that were only available to the elite.

HPL Presents: Jasmine Guillory
Wednesday, August 10, 2022
7:00pm – 8:30pm
Virtual Event
Join us in celebrating Romance Awareness Month where we all read a romance novel in August by hosting Jasmine Guillory, author of The Wedding Date, The Proposal, and her newest book While We Were Dating, to speak about Diversity in Fiction.
Fans of Sonali Dev and Abby Jimenez will enjoy this talk.
This will be a virtual event. Registrants will receive a webinar link no less than 24 hours prior to the event!
A Book Affair: "By the Book"

Thursday August 18, 2022

6:30pm – 7:30pm

Virtual

Do you fall in love at first chapter? Come join us for HPL's book club dedicated to romance novels. This month we will be discussing By the Book by Jasmine Guillory.

This is a virtual event; links will be emailed to registrants. Registrations open at 6:30pm Thursday, July 28, 2022