Vol. 3, Issue 10- 05.13.22
Dear District F:

This week's newsletter has a substantial amount of information. I encourage you to take the time and read through at your leisure, so you are aware of what is happening in your city and neighborhood.

The city budget was announced on Wednesday, May 11th. State law requires the city to retain 7% of the city's fund balance in our account; I am pleased to share that we have exceeded the minimum, and we have 13%. Which places us in a healthy financial position as we move to post-pandemic activities. A special note in the budget is several significant expenses that you must understand. Close to 54% of the budget is employees – 76% of that group is classified, which means public safety, largely Houston Police and Fire. All employee groups received raises over the next three years, starting in 2021.

HPD 4% (12%)

HFD 6% (18%)

HOPE 3% (9%)

Our budget does not account for population growth or any one-time land sales, which are essential for our forecasting. I am sharing this information to inform you how your city is funded, operating, and our spending priorities.

Mayor Turner shared he will present an ordinance to the council at the end of the month to increase the tax exemption for 65 and up with home value at $160,000 to $260,000 to adjust for the market value increase.

Community engagement and feedback are imperative to all of our work, and I want to invite you to participate in the city budget workshops held in person and virtually. If you are interested in how solid waste, Houston police, housing, and parks are funded, please tune in and sign up for public comment.

Speaking of engagement District F is hosting our very first capital improvement project meeting on May 17th; you must attend to participate in several meaningful discussions such as REDISTRICTING and PENDING/COMPLETE CIPs. Houston Public Works (HPW) has been informed to prepare responses to the following projects that were scheduled (2015-2020) and not funded:

N-210014 Catalina Area 4042 – Street & Traffic Control and Storm and Drainage

N-210006 Huntington Village Sec 4 Area Street & Traffic Control and Storm and Drainage

M-410009 HPW Briarmeadow (South) Area Drainage and Paving Improvements

I have received many emails from residents complaining about 18-wheelers and mechanic shops parking on easements and on public streets for more than 24hrs. As a Regulatory and Neighborhood Affairs member, I am working with Councilwoman Sallie Alcorn to review the current ordinance and address this ongoing issue in our city and our district. We plan to present options this summer, and if you are interested in participating in our stakeholder group, please get in touch with me directly so I can add you to the list. Many of you have worked with my office as an extra set of eyes — I would love to have your input as we review the ordinance and present Mayor Turner's administration with a possible option.

Continuing with quality of life and blight, I am thrilled to report that the mobile home/trailer owner located on Alief Clodine and West Houston Ave personally affirmed that he would move the trailer by this weekend. On Tuesday, he attended the public session to address another issue, and I used my time to remind him of our shared commitment to keeping our communities safe and clean. After ten months of false starts, I look forward to reporting back a permanent resolution.

Summer is soon here, and I hope you join me and others on Sunday, May 15th, at Hackberry Park for CIGNA Sunday In The Park from 12-5 pm. This is an excellent opportunity to enjoy food, music, and games for children. Don't forget your sunscreen; it will be a hot one!

Lastly, the city has 30 swimming pools, and we desperately need lifeguards this summer. We have 33 and need 111 for our swimming pools to be fully operable as of Wednesday. If you have a child, grandchild, neighborhood, or student that would be interested in receiving training and getting paid $11 per hour, please send them our way. It would be a travesty for us not to offer a resource residents contribute to because we do not have the labor to open our gates. Please help!

As of Thursday, May 12th at 6pm – Solid Waste Recycling – Week B is delayed; please leave your container on the curb.

Be kind to each other; we are all we have.
Councilwoman Tiffany D. Thomas
HOT SPOT TEAM HIGHLIGHT
WEEK OF MAY 2-8
Total Work Orders Completed: 37
Hotspot of the Week: 12700 South Drive (Recurring)
Total Man Hours Worked: 72
Tree Waste: 300 lbs.
Mattresses: 6
Furniture Waste: 11 pieces
Tires: 26
Trash Debris: 540 lbs.
Shopping Carts: 15
Bandit Signs: 129
Landscaping: none
SOLID WASTE MANAGEMENT DEPARTMENT UPDATE
Tree Waste Operations: May 11, 2022
Those who receive 2nd week Tree Waste collections, please leave your debris at the curb.
Aquellos que reciben recolecciones de árboles de 2ª semana, por favor dejar sus despojos en la acera.
For more information, visit the Neighborhood Depository/Recycling Center web page or call 3-1-1. You may also use the following resources.
Facebook – Updated daily
Link: City of Houston Solid Waste Management – Posts | Facebook
HTX Collects- an app used to update you about your service in real-time. You can also use the link on the website to get an update.
WORK AUTHORIZATION NOTIFICATION
The work to be performed under this Work Authorization is to replace concrete panels along Richmond Ave from Royal Pallisades to Kirkwood.
Start Date: May 16th
Timeline: 7 weeks
Contractor: DCE Construction, Inc.
Price: $640,000
TAKE ACTION AND SUPPORT TANGLEWILDE
Tanglewilde is experiencing strange discovers decapitated animals. Read more about the incidents here. If you know anything about the incident call police or the Houston SPCA.
DISTRICT F COUNCIL ITEMS
Item #21- Ordinance passed approving and authorizing Drainage Participation and Maintenance Agreement between the City of Houston (City) and Harris County Municipal Utility District No. 372 (District) for Royal Oaks. Click here for details.
COUNCIL MEMBER THOMAS ADDRESSES BLIGHT IN THE COMMUNITY
COUNCIL MEMBER THOMAS MAY 11th, 2022 COUNCIL SESSION POP-OFF COMMENTS
MAY 17TH IS OUR REDISTRICTING MEETING
Share your thoughts next Tuesday
The City is embarking on a process to adopt new City Council district boundaries using the information from the 2020 US Census. There will be multiple opportunities to comment and be updated on the process.

The redrawn districts will aim to:
Maintain relatively equal population numbers
Be composed of whole county voting precincts
Have easily identifiable geographic boundaries
Maintain communities of interest/neighborhoods
Be compact and contiguous
Avoid packing or cracking

Packing – diminishing voting power by calculated demographic concentration
Cracking – diminishing voting power by calculated demographic dilution

Preserve incumbent-constituency relations
Read the Redistricting Frequently Asked Questions for more details about redistricting criteria.
Learn more here.
On Thursday, May 12th, Council Member attended the ribbon cutting of McKee City Living. The city contributed $14.5M of funding to serve individuals and families earning 60% area median income (AMI) or below.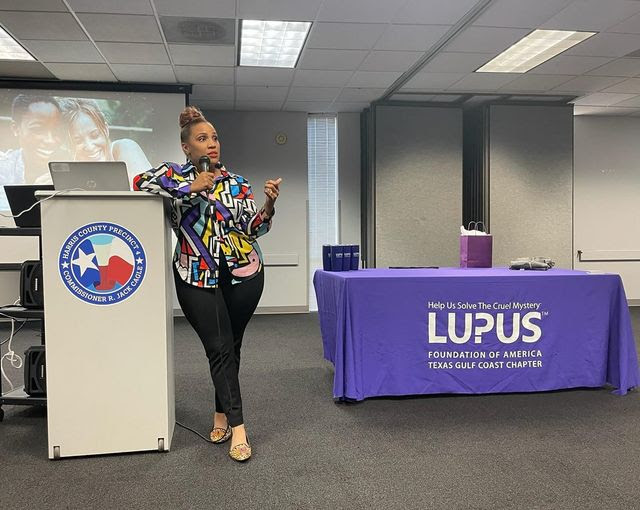 On Wednesday, May 11th, Council Member Thomas joined the Lupus Foundation of America Texas Gulf Coast Chapter, Inc. to not only welcome guests to District F but also raise the importance of their work. Discussions topics ranged from understanding lupus to finding quality care and constituents left feeling empowered.
On Saturday, May 7th Council Member Thomas attended a catalytic converter event sponsored by Alief ISD CTE, HPD, International Management District, and her office. Over 200 cars were in line before 9 AM and students of the CTE provided a phenomenal level of service.
On May 6th, Council Member Thomas attended the Harmony House Ribbon Cutting in District H supporting Council Member Cisneros. The 128 unit building will support men who have jobs but are still experiencing homelessness.
Last week, Council Member Thomas met with members of the Briarmeadow South community alongside leaders of Houston Public Works' Storm Water Action Team (SWAT). Together, they listened and addressed the concerns of the residents around neighborhood projects.
SUBSCRIBE TO NEIGHBORHOOD UPDATES
Phone messages in English and Spanishnotify residents about city services, new programs & civic engagement opportunities
Voice/text messages a convenient servicefor residents without easy access to internet sources
The Department of Neighborhoods (DON) invites residents to subscribe to Neighborhood Updates to receive brief voice or text messages in Spanish or English about essential services and resources. The messaging service is for everyone, especially for seniors and others who may not have easy access to online information, persons with disabilities who need information in audio or written format, and residents who prefer notices in Spanish.
HOUSTON PUBLIC LIBRARY EVENTS


AAPI Festival – Celebrating our AAPI Community!Saturday, May 14, 2022

11:00am – 1:00pm

Central Library – Downtown

Celebrate our Asian American Pacific Islander community at HPL's AAPI Festival!

The AAPI Festival highlights the cultural contribution of the Asian American communities to the culture and unity of America. Enjoy beautiful dance performances, bilingual story times, crafts, AAPI storytelling, and more.

Chen Zong Ho 'Retrospect and Prospect' Exhibit Reception and Book Donation

Friday, May 20, 2022

2:00pm – 4:00pm

Central Library, 1st Floor Programming – Downtown

Join the Houston Public Library to celebrate the opening of the exhibit 'Retrospect and Prospect: The Changes of Taiwan's Landscape — Chen Zong Ho's Watercolor Depictions of Taiwan Scenery', on display at the Central Library Gallery from May 7 – July 28, 2022.

HPL Presents: Annette Gordon-Reed

Saturday, June 11, 2022

2:00pm – 3:00pm

Julia Ideson Building, Auditorium

Join us for an afternoon with Annette Gordon-Reed, the first Black person to win the Pulitzer Prize for History, and MacArthur Genius is one of the integral voices who helped Juneteenth officially enter our national conversation in conversation with award-winning journalist Melanie Lawson about Juneteenth and the book On Juneteenth by Annette Gordon-Reed. A moderated Q&A follows the conversation. This event is free and open to the public. Registration is strongly encouraged.

HPL Presents: John Paul Brammer

Saturday, June 18, 2022

Central Library, 1st Floor Programming – Downtown

Join us for an afternoon conversation with John Paul Brammer, author of Hola Papi: How to Come Out in a Walmart Parking Lot and Other Life Lessons at the Central Library in celebration of Pride Month.