Vol. 2, Issue 25 – 07.01.21
A MESSAGE FROM THE COUNCIL MEMBER
District F,
We have so much to celebrate. This summer, many of us will reunite with family and friends we could not be with in 2020. As we work together to re-open and celebrate Independence Day on July 4th, let us continue washing our hands and practicing caution in large groups.
July 4th calls for a celebration which, in our city, often equates to fireworks and gunshots. Friends, I want to remind you that selling and using fireworks in the city limits is illegal and can result in fines between $500-$2,000 for each firework. There are no warnings due to the seriousness of the offense.
In response to your 311 calls regarding stray animals, my office is partnering with BARC to provide three neighborhood sweeps in some of our most problematic areas. We are increasing our spay-neuter program and working to improve responsible pet ownership communication throughout the city. I welcome recommendations from individuals, HOA's, and civic clubs to identify high-need areas.
Last week, agenda item #2 the Independent Police Review Board was pulled for consideration. There are five additional positions available. I plan on submitting two names from District F. If you are interested in serving, please send your resume, a short biosketch to districtf@houstontx.gov by July 2nd at 8 AM.
Finally, July is also my birth month, and after the year we experienced, I plan on celebrating all month – I hope you will join me. In the next few weeks, I will release a series of community events in honor of my 40th birthday (yes, 40), from school supply drives to a pet food pantry, all in District F.
Tiffany D. Thomas
Houston City Council Member
City of Houston, District F
DISTRICT F TOWN HALL WITH CHIEF FINNER
"Public safety is all of our responsibility" that is how Council Member Tiffany D. Thomas began a Town Hall with HPD Troy Finner with residents of District F at the Tracy Gee Community Center. The event included questions from attendees. The Chief talked about plans and programs that addressed concerns regarding reporting gun fire, more patrol at apartment complexes and crime prevention. The Chief also encouraged citizens to participate in the department's PIP program. Along with Chief Finner other speakers included Crystal Okorafor, Deputy Inspector General (DIG) for the newly created Office of Policing Reform and Accountability for the City of Houston and officers from Westside and Midwest Patrol. To view the livestream on Facebook of the entire Town Hall CLICK HERE
THIS WEEK'S COUNCIL MEETING
ERROR FROM LAST WEEK's NEWSLETTER: We stated that Council approved the appointment of the Independent Police Oversight Committee Board. That is incorrect. See notes below for update on this item.
In this week's Houston City Council meeting on Wednesday, June 30 among the items were approval of appointments, approval of raises for firefighters and funds for Meals on Wheels.

Item #2 (removed from consent agenda for separate consideration) Request from Mayor for confirmation of the appointment or reappointment of individuals to the PLANNING COMMISSION. Council Member Thomas was among council members who had opposed some of the individuals under consideration. A recent consideration by the commission to vote against an initial variance on plans for the Briarmeadow area was addressed. The plan was supported by residents, construction and the developer. But the commission voted against it and allegedly, failed to listen to those who were affected. It was stressed the need for the commission to vote and work as a separate entity in its decision process as arbitrators for rules of construction. CM Thomas stressed how important it was for voices to be heard and considered. For more on this CLICK HERE to view the Council meeting.

Item #4 (removed from consent agenda for separate consideration) request from Mayor for confirmation of the appointment or reappointment of the individuals to the INDEPENDENT POLICE OVERSIGHT BOARD, for a term to expire January 31, 2023. There are still five additional positions available and applications are being accepted at this time. The item was delayed for one week. CLICK HERE to view the full Council meeting.

Item #22 ORDINANCE approving and authorizing Various Vendor Agreements between City of Houston and 1) BAYTOWN MEALS ON WHEELS, 2) BAKERRIPLEY, 3) CITY OF JACINTO CITY, TEXAS, 4) CITY OF LA
PORTE, 5) CITY OF SOUTH HOUSTON, TEXAS, 6) EVELYN RUBENSTEIN JEWISH COMMUNITY CENTER OF HOUSTON, TEXAS, 7) INTERFAITH MINISTRIES FOR GREATER HOUSTON, 8) NORTHWEST ASSISTANCE MINISTRIES, 9) THE SALVATION ARMY, 10) YOUNG WOMEN'S CHRISTIAN ASSOCIATION OF HOUSTON, 11) BLACK EMERALD TRANSPORTATION, INC, and 12) GREATER HOUSTON TRANSPORTATION COMPANY, respectively, for Nutrition and Transportation Services to senior adults provided through the Harris County Area Agency on Aging of the Houston Health Department; providing maximum contract amounts – 1 Year with four one-year options – $55,407,437.00 – Grant and Health Special Revenue Fund

CM Thomas took a moment to highlight some of the agencies and the good work they do in District F. Here is a breakdown of some of the organizations and the meals that they distribute.

8,480 meals BakerRipley
15,000 meals Jewish Community Center
27,000 meals Interfaith for Greater Houston
150 meals Northwest Assistant Ministries
18,000 meals YMCA
Pop Off Comments for June 30, 2021
WHAT THE NEW ALIEF NEGIBORHOOD CENTER MEANS TO ME
by District F Intern Tommy Wan
On June 24, the Manhattan Construction Company placed the final steel beam for the new Alief Neighborhood Center. Located in an area rich with history, the center is the treasure of diversity, culture, and community values. Those in Alief will get educated within the walls of the library, exercise through the various sports facilities, and bond with others through the beautiful, vast acres of the park. As a child, I fondly remember visiting the center weekly to play tennis matches with my father. As a child, I recall the special moments of bonding with brothers and sisters that I am still close to today. I remember checking out an abundance of books, to the point where my book bag broke. These core memories stayed with me, allowing me to grow in character and curiosity.
With the ground-breaking emergence of the new Alief Neighborhood Center, I am proud. I am deeply excited about the limitless possibilities that the project will bring to District F. For more than twenty years, notable constituents have advocated for a new and improved neighborhood center within the heart of Alief – and it's almost here. A neighborhood center where citizens from all walks of life will come together. From the gorgeous pane glass to the luscious green lawns, we will relive the liveliness of Alief in a pragmatic, impactful manner. We appreciate and thank the sweat, tears, and blood by those who built the new center, Council Member Thomas, Mayor Turner, and most importantly, the constituents of Alief. As we finalize the groundwork for future generations through the Alief Neighborhood Center, let's appreciate the construction of such a pivotal milestone, one where it encourages me to come back and create even more lasting memories. I am sure you will feel the same way, too.
Calling All Employers
We are partnering with area employers to participate in our career fair on August 14th. If you are an employer who has positions available please contact Cherrelle Duncan at cherrelle.duncan@houstontx.gov to participate.
Let's get Houstonians back to work.
Spanish
Vietnamese
The Solid Waste Management Department (SWMD) is experiencing service delays in all quadrants of the City due to the increased amount of debris placed out for collection and driver shortages in our critical classifications.

As a result, SWMD is adjusting operations and updating collection schedules to serve Houston residents. The department is also hiring Commercial Truck Drivers and offering a signing incentive pay for these critical classifications.

All interested applicants are asked to visit houstontx.gov/careers to submit an employment application.

For more information about SWMD and our services, visit us at www.houstonsolidwaste.org, "LIKE" us on Facebook at www.facebook.com/houstonsolidwaste, follow us on Twitter @houstontrash, or call 3-1-1, the City of Houston's Customer Service Helpline.
Our Hot Spot Team has put in a lot of effort keeping our district clean. The following is for the time period of June 21-25, 2021.
· Total Work Orders Completed: 18
· Hot Spot of the Week: 3600 Overture
· Total Man Hours Worked: 64
· Tree Waste: 1200 LBs
· Mattresses: 7
· Furniture Waste: 8 pieces
· Tires: 26
· Trash Debris:690 LBs
· Shopping Carts: 0
· Bandit Signs: 378
· Landscaping: 6,000 sq ft
Alief ISD's HD Chambers named Superintendent of the Year
HD Chambers, superintendent of Alief Independent School District, has been named the 2021 Region 4 Superintendent of the Year. Chambers is the Region 4 nominee for the 2021 Texas Superintendent of the Year program, sponsored by the Texas Association of School Boards (TASB). The Texas Superintendent of the Year will be announced at the 2021 TASA/TASB Convention September 24–26, 2021, in Dallas.
During his 10 years as superintendent of Alief ISD, Chambers has been a tireless advocate for students and educators alike and, in collaboration with the Alief School Board of Trustees, supported the formation of the Alief ISD Equity Committee. After months of collaboration, the district adopted the Alief ISD Racial and Social Justice Equity Policy to ensure students have equitable access to educational instruction and programs through enhanced restorative practices, unconscious bias training, and reducing student removal. Equity proved particularly important as the district navigated the uncertainties created by the COVID-19 pandemic.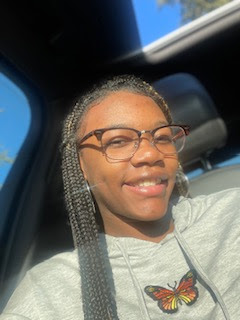 INTERN SPOTLIGHT
Cha'Liyah Atkins, a summer intern for District F's Council Member Tiffany D. Thomas, is a rising senior at Energy Institute High School. She thoroughly enjoys the internship, and is looking forward to upcoming opportunities and events. Through this internship, she hopes to learn about the political climate in Houston—specifically in District F. Atkins is currently working on dissemination of important information to constituents of District F, such as trash pickup dates, recycling, and pertinent local issues. Her career goals include being a pediatrician and day care owner. She enjoys volleyball and dancing on her free time.
HAVE A SAFE 4th of JULY

The use of fireworks are not only illegal in the City and parts of the County but they are also are very dangerous.

It is illegal to discharge fireworks the City of Houston. A Texas House Bill allows for the transportation of fireworks, however there are restrictions including where the fireworks are located inside the vehicle and if they are opened or unopened. See HB1813 for more information >>>

The City will continue to enforce, in compliance with state law, fire and safety regulations within the city.

Harris County residents should also be aware that HFD will be enforcing the fireworks ban in the Limited Purpose Annexation Areas.

The fines are anywhere from $500 – $2000 for each individual firework.

Warnings are no longer used because of the seriousness of the firework laws. If a minor is caught with fireworks, the parent or guardian will receive the fine even if they were unaware of the minor's possession and/or usage.

Even though it is legal to buy, possess, and use consumer fireworks (1.4G) in the unincorporated areas of Harris County, there are some places you cannot use fireworks even in the unincorporated county. Such as near churches, hospitals an asylum, a licensed child care center, or a public or private primary or secondary school or institution of higher education unless the person receives authorization in writing from that organization.

Although Fireworks and celebrations go together, especially during the holiday season, they can be dangerous when used improperly; causing serious burn and eye injuries.

Citizens should report all complaints regarding the illegal use of fireworks directly to the HPD Tel-communicator (non-emergency line) at 713-884-3131. If the citizen believes that there may be a fire and/or medical emergency related to the use of fireworks, he/she should dial 9-1-1 and request the HFD.

2021 Celebrations

Houston's signature patriotic celebration, Shell Freedom Over Texas, returns with a salute to America's Frontline Heroes. The annual day-long festival is on hold for one more season, however, Houstonians can enjoy the City's cherished tradition of music and patriotic moments via live broadcast on Sunday, July 4th from 7 p.m. – 10 p.m. on ABC 13. Fireworks will reach 800 feet, almost doubling the height of the traditional show, for more to enjoy from further away. Open spaces and neighborhood parks with a view of the western downtown skyline are ideal. Eleanor Tinsley Park will be open for fireworks viewing only for families that wish to park downtown and walk (Allen Parkway and Memorial Drive will be closed for fall out)
BeGr8 INC
July 10, 2021- Book Reading & Drive
10a.m. – 12p.m.
Reginald Moore Community Park
13900 Sand Canyon Drive Houston, TX 77083
We encourage parents to volunteer with their children age 7-19, to participate in the book reading portion of the book drive. Children 7-12 will read a short story to their 13-19 year old partner. We have volunteer teachers that will pair with each group to encourage good feedback and dialogue during the process. Guest Speaker English Specialist LaRhonda Taplin. All donated books are going to Alief ISD bookstores throughout the district. Hamburgers, hot dogs, chips, and juice for all volunteers. Please contact us for further details.
SUPERNEIGHBORHOOD 25 COMMUNITY CLEAN UP
July 10 from 8am – 10am at South Kirkwood and Bissonnet
Visit their website.
Brookfield East
2nd Monday of every month
8903 Ashkirk Houston, TX 77099
Leamont HOA
2nd Monday of every month
11331 Beechnut Houston, TX 77072
Briarmeadow HOA
2nd Tuesday of every month
3202 Freshmeadows Dr, 77063
Midwest PIP Meeting
Officer Alex.Chan@HoustonPolice.Org
832.394.2780
7277 Regency Square 77036
3rd Wednesday, 7 p.m.
Westside PIP Meetings
Officer Tim Whitaker
832.394.5712
Timothy.Whitaker@HoustonPolice.Org
Westchase – Business
3599 Westcenter Drive
2nd Thursday, 11:30 a.m.
West Houston Security Group – Business
Location Varies (Call)
3rd Thursday (Every Other Month),
11:00 a.m.
Westside Apartment – Business
9700 Club Creek
3rd Tuesday, 11:30 a.m.
Westside – Civic
3203 South Dairy Ashford
3rd Thursday, 7:00 p.m.