Vol. 2, Issue 17 – 04.30.21
A WORD FROM COUNCIL MEMBER THOMAS
Friends and Neighbors,
May 1st will mark the beginning of Asian American and Pacific Islander Heritage Month. In honor of this occasion, I would like to acknowledge the many contributions of our Asian American and Pacific Islander residents in District F. The strength of our community lies in our diversity, our ability to work together toward shared goals, and the prosperity that results from the respect and celebration of different cultures.
This past year has been hard for all of us. We've accepted that there are things that we have to endure. But the rise in specifically targeted anti-Asian crime and rhetoric is something that we simply cannot tolerate. There are those who have been emboldened to act on the most vile of impulses, lashing out and laying blame on the Asian community as the cause of the pandemic. We must continue to condemn this behavior.
I would also like to take this opportunity to denounce the model minority myth, which undermines the Asian American experience and the struggle for equality. It often pits Asian Americans against other minority groups. This runs antithetical to what Houston—and America—stands for.
One of the most American things that all of us can do is respecting our fellow Americans. I encourage everyone to learn more about the Asian American experience, understand their history in America, and celebrate their many rich cultures. To start, click here.
Sincerely,

Tiffany D. Thomas
Houston City Council Member, District F
Churches and facilities in District F: if you are interested in potentially becoming a vaccination site, please click on the image to fill out our survey.
Iglesias y instalaciones en el Distrito F: si está interesado en convertirse en un sitio de vacunación, haga clic en la imagen para completar nuestra encuesta.
Các nhà thờ và cơ sở ở Quận F: nếu bạn quan tâm đến việc có khả năng trở thành một địa điểm tiêm chủng, vui lòng nhấp vào hình ảnh để điền vào bản khảo sát của chúng tôi.
If you've have missed rental or utility payments due to being impacted by the pandemic, apply for assistance from the Houston-Harris County Emergency Rental Assistance Program. Assistance will NOT be first-come, first-served. To receive help over the phone, call 832-402-7568.
To check on your application status, click here.
To mark the end of National Volunteer Month, our office would like to highlight some of the work of the dedicated volunteers who have been stepping up in our district all throughout this year. Their diligence and compassion continue to inspire us.

Please click on the image above to view the video we've compiled to highlight their work.
On Tuesday, April 27th, 2021, Council Member Thomas presented a proclamation from the City of Houston to Patrick Hoang, the owner of Fish-N-Pets Unlimited. In the aftermath of Winter Storm Uri, Patrick Hoang opened the doors to his store and provided over 7,500 gallons of free filtered water to 540 families in and around District F. To view the virtual proclamation presentation, click on the image above.
Council Pop-Off Comments – 04.27.21
Friday, April 30th marks the 46th anniversary of the Fall of Saigon. We will join in sympathy with our Vietnamese community in reflecting on this solemn occasion.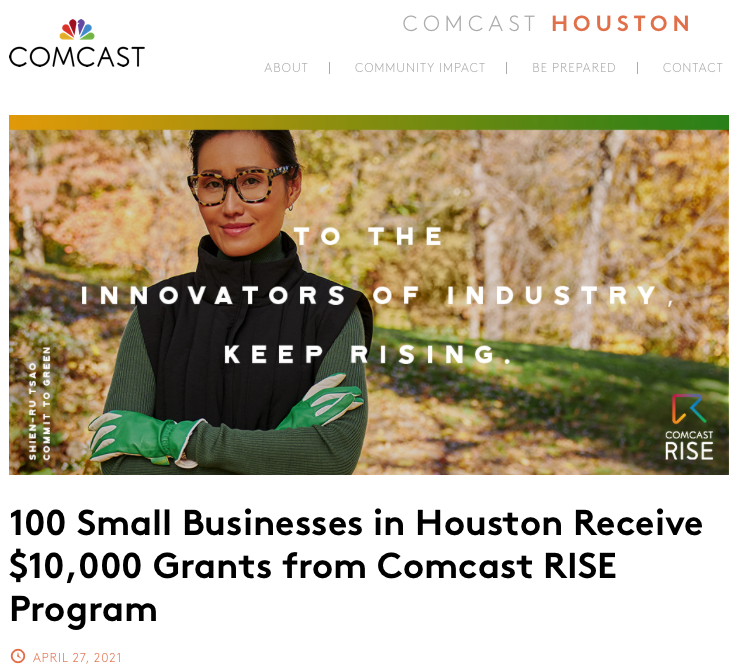 Congratulations to the Comcast RISE grant recipients in and surrounding District F! They include Agies Insurance LLC, Astor Business Centers, Ball Capital, ControlPoints, Elegant Beauty Salon, Elite Dental Wellness, Heavy Armour Security, Honey K Styles, Mala Sichuan Bistro, Phuong My Music, Reliance Rehab LLC (Galleria Residence and Rehabilitation Center), She's Happy Hair, S.O.P. LLC (Saunders Office Products), Sports Rub, TRUTH General Dentistry, and KJD Business Solutions LLC.
CIP UPDATE:
Chelford City Diversion Pkg. #1
(along Westpark Dr)
At Westpark and Ashfield:
Shaft #3 (Westpark at Ashfield) was eliminated via change order. Therefore, the median opening at Ashfield is no longer required. The traffic control phase that is currently implemented, is the phase in place for this segment of work.
Please see the approved TCP plan at Ashfield for your reference.
CIP UPDATE:
Westpark Paving and Drainage
("Westpark Expansion Project")
Before
After #1
After #2
In response to a request from Parkglen West HOA, our office contacted the Department of Neighborhoods (DON) to have the easement at Kirkwood and W Bellfort mowed. Thank you to DON for resolving the service request earlier this week.
To view the latest crime report for Super Neighborhood 25 (Alief), click on the image above. To view just the stats, click here.
To view the full press release, click here.
To view the answers to frequently asked questions, click here.
For those interested in being on this year's Steering Committee for the Youth Conference, please fill out this form (intended for youth ages between 15 – 18 years old). After you have filled out this form, please send your resume and cover letter to Idalid.Navarro@houstontx.gov.
Click on the form to report homeless encampments in our district. The Solid Waste Department will sanitize these sites to reduce the spread of COVID-19.
The Criminal Justice Coordinating Council is seeking Community Members for the Racial and Ethnic Equity Committee.
HARRIS COUNTY– (April 19, 2021) – The Criminal Justice Coordinating Council (CJCC) seeks community members to form the Racial and Ethnic Equity Committee.The newly re-instated Racial and Ethnic Equity Committee of the CJCC focuses on identifying and addressing racial and ethnic disparities throughout the criminal justice system and facilitating initiatives meant to advance equity by implementing meaningful community engagement strategies. The Committee will consist of 13 Community Stakeholders and four appointed Harris County agency representatives.

Applicants may include representatives of community groups, service providers working with justice- involved individuals, members of the criminal justice system, including advocates/advocacy groups, subject-matter experts, and other individuals committed to advancing solutions the racial and ethnic disparities. Preference will be given to those applicants that have lived experience with the criminal justice system.

Emphasis will be placed on ensuring geographic representation from parts of the county most impacted by the criminal justice system. Individuals with lived experience such as justice-involved individuals and individuals affected by crime/violence are strongly encouraged to apply. Applicants should be residents of Harris County and/or be able to demonstrate that their relevant work/service experience has a significant impact in Harris County (please provide concrete examples of impact in Harris County and services provided to Harris County residents). Committee members should be available to dedicate at least 8 hours per month to the Committee's work.

The Application Process: For those applying, you have a choice of a written application or uploading a video application. The application period begins on Monday, April 19, 2021. Both written and video applications are due by 11:59 pm on Friday, April 30, 2021.

Contact: Laura Lucas, Communications & Media Relations Manager. M: 832.778.1088 @: laura.lucas@jad.hctx.net

Interested individuals can download the application at https://jad.harriscountytx.gov/Racial-and- Ethnic-Equity-Committee-Member-Application. The link with instructions for the written and video application will go LIVE on Monday, April 19th.

To learn more about the application process, click here to view a virtual Q&A . For more information, please send all questions directly to Karen Evans, Community Engagement Manager, via email to