Vol. 2, Issue 10 – 03.11.21
On March 10th, City Council approved the Utility Winter Storm Uri Relief Program, authorizing adjustments to affected water and wastewater customer accounts.This will provide for a one-time adjustment to all affected utility customers' water and wastewater utility bills to the lower of the average monthly usage billed over the previous 12 months immediately preceding the Winter Storm Uri period or the monthly billed consumption which includes the storm period, as well as suspension of late fees and disconnections.
Automated phone system: 713.371.1265
Speak with a customer service representative: 713.371.1400
Text HOUSTONFREEZE or HOUSTONAYUDA to 898211. As soon as additional information is available on funding eligibility and criteria, you will be contacted. For more information, click here.

Homeowners can receive a temporary exemption of a portion of their property taxes if their property was at least 15% damaged by the winter storm. May 28 is the deadline to apply. For the application form, click here. Contact HCAD at 713-957-7800, or email help@hcad.org.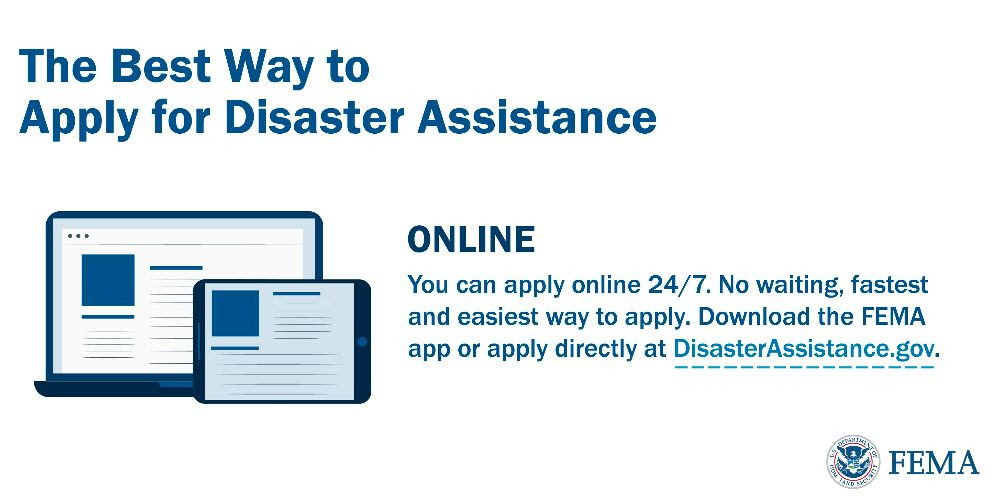 If you do not have internet access, you may also apply by calling 1-800-621-3362 or 1-800-462-7585 TTY.

For more on FEMA decision letters, click here.

For more resources, click here and here.
To apply for the Houston-Harris County Emergency Rental Assistance Program, click here.
For the fact sheet and answers to frequently asked questions in multiple languages, review our newsletter from 2/25.
For telephone assistance, call 832-402-7568.
The Centers for Disease Control and Prevention (CDC) has extended the federal eviction moratorium through March 31st. In order to be covered by this moratorium, you must sign and submit a declaration to your landlord. The updated moratorium and declaration are available here in English, Spanish, Vietnamese, Chinese, Arabic, Urdu, and French.
Apply to the Comcast RISE Investment Fund. 100 small businesses in each participating city will receive a $10,000 monetary grant. The application period is March 1-14, 2021. Grants will be announced at the end of April 2021 and awarded in May 2021.
Fish-N-Pets Unlimited continues to provide free filtered water to the community. If you are in need of water and have transportation, please bring your water container here to be filled up!

Alief Community Fridge
D'Hope Services
12131 Beechnut St, Ste A1
Sundays from 10AM-2PM
To view volunteer duties, click
here
. For the list of donations that are accepted, click
here
. For more information, email
Vanessa Lipscomb
or call (713) 498-5418.
For information on Phase 1C, click here.
Join the Houston Health Department's COVID-19 vaccine waitlists at HoustonEmergency.org/covid19.

For registration assistance, call:
the Area Agency on Aging at 832.393.4301
the Aging and Disability Resource Center at 832.393.5500
or the COVID-19 call center at 832.393.4220
For a list of updates provided by the Houston Health Department on Thursday 03/11, click here.
Receive alerts about new appointment opportunities through email, text message, voice call, or mobile app push notification by registering for the HoustonRecovers subscription of AlertHouston at http://AlertHouston.org.To check for updates from other vaccine hubs in Houston and Harris County, click here.
You are invited to participate in a survey to collect information about COVID-19 vaccine eligibility. This online survey should take about 2-10 minutes to complete. Participation is voluntary, and responses will be kept confidential to the degree permitted by the technology being used.
If you qualify for the COVID-19 vaccine under Phase 1A or 1B, please click on the image to fill out the survey and provide the District F office with your information so that we can keep you updated on vaccine availability. This data will be shared with the Houston Health Department (HHD). Homebound seniors are being prioritized.
Churches and facilities in District F: if you are interested in potentially becoming a vaccination site, please click on the image to fill out our survey.
Iglesias y instalaciones en el Distrito F: si está interesado en convertirse en un sitio de vacunación, haga clic en la imagen para completar nuestra encuesta.
Các nhà thờ và cơ sở ở Quận F: nếu bạn quan tâm đến việc có khả năng trở thành một địa điểm tiêm chủng, vui lòng nhấp vào hình ảnh để điền vào bản khảo sát của chúng tôi.
FREE Drive-Thru COVID-19 Testing at Crump Stadium – 12321 Alief Clodine Rd, 77082
NO APPOINTMENT NEEDED
For Women's History Month, we are dedicating this portion of our newsletter to outstanding women who have had a tremendous impact on the national, state, and/or local level, and who are continuing to inspire others.

Shirley Chisholm
(1924 – 2005)
From the National Women's History Museum:
Shirley Anita St. Hill Chisholm was the first African American woman in Congress (1968) and the first woman and African American to seek the nomination for president of the United States from one of the two major political parties (1972). Her motto and title of her autobiography—Unbossed and Unbought—illustrates her outspoken advocacy for women and minorities during her seven terms in the U.S. House of Representatives.
In 1964, Chisholm ran for and became the second African American in the New York State Legislature. After court-ordered redistricting created a new, heavily Democratic, district in her neighborhood, in 1968 Chisholm sought—and won—a seat in Congress. There, "Fighting Shirley" introduced more than 50 pieces of legislation and championed racial and gender equality, the plight of the poor, and ending the Vietnam War. She was a co-founder of the National Women's Political Caucus in 1971, and in 1977 became the first Black woman and second woman ever to serve on the powerful House Rules Committee. That year she married Arthur Hardwick Jr., a New York State legislator.
Discrimination followed Chisholm's quest for the 1972 Democratic Party presidential nomination. She was blocked from participating in televised primary debates, and after taking legal action, was permitted to make just one speech. Still, students, women, and minorities followed the "Chisholm Trail." She entered 12 primaries and garnered 152 of the delegates' votes (10% of the total)—despite an under-financed campaign and contentiousness from the predominantly male Congressional Black Caucus.
Chisholm retired from Congress in 1983. She taught at Mount Holyoke College and co-founded the National Political Congress of Black Women. In 1991 she moved to Florida, and later declined the nomination to become U.S. Ambassador to Jamaica due to ill health. Of her legacy, Chisholm said, "I want to be remembered as a woman … who dared to be a catalyst of change."