Vol. 1, Issue 20 – 11.19.20
Please be advised that sidewalks and ramps along High Star Dr between Yupon Ridge Dr and Bugle Rd will be replaced through our office's Council District Service Fund. Construction is anticipated to begin on November 30th and be completed by December 14th.
Please be advised that the curb and turn lane at Kirkwood Rd and Meadowglen Ln will be reconstructed through our office's Council District Service Fund. Construction is anticipated to begin on November 23th and be completed by December 7th.
Thank you to District F resident Betty Box for informing our office about the debris issue on the esplanades of Westhollow Dr between Richmond Ave and Westheimer Rd. After we contacted the Parks Department, they notified us that these esplanades are part of the Energy Corridor area (Westhollow, West Houston Center, Richmond, West Oaks, Eldridge Parkway, Westpark) that is scheduled to be cleaned between November 20th and December 11th.
The City of Houston's Rental Assistance Program is still accepting enrollment from landlords and renters. To receive up to $2,112 for past due rent for September, October and November, apply here.
If your landlord does not want to enroll in this program, visit this portal to enter your information.
The Centers for Disease Control and Prevention has issued a nationwide eviction moratorium, effective through December 31, 2020.
In order to be covered by this moratorium, you must sign and submit a declaration to your landlord. The moratorium and declaration are available here in English, Spanish, Vietnamese, Chinese, Arabic, Urdu, and French.
If the Rental Assistance Program does not cover the full amount that you owe to your landlord, please ask your landlord to enter into a payment plan. Templates are available here. For guidance on how to speak with your landlord about this topic, click here. For additional tenant resources, click here.
Texas Eviction Diversion Program (TEDP)
FREE COVID-19 Testing at Crump Stadium extended through December 31st!
844-778-2455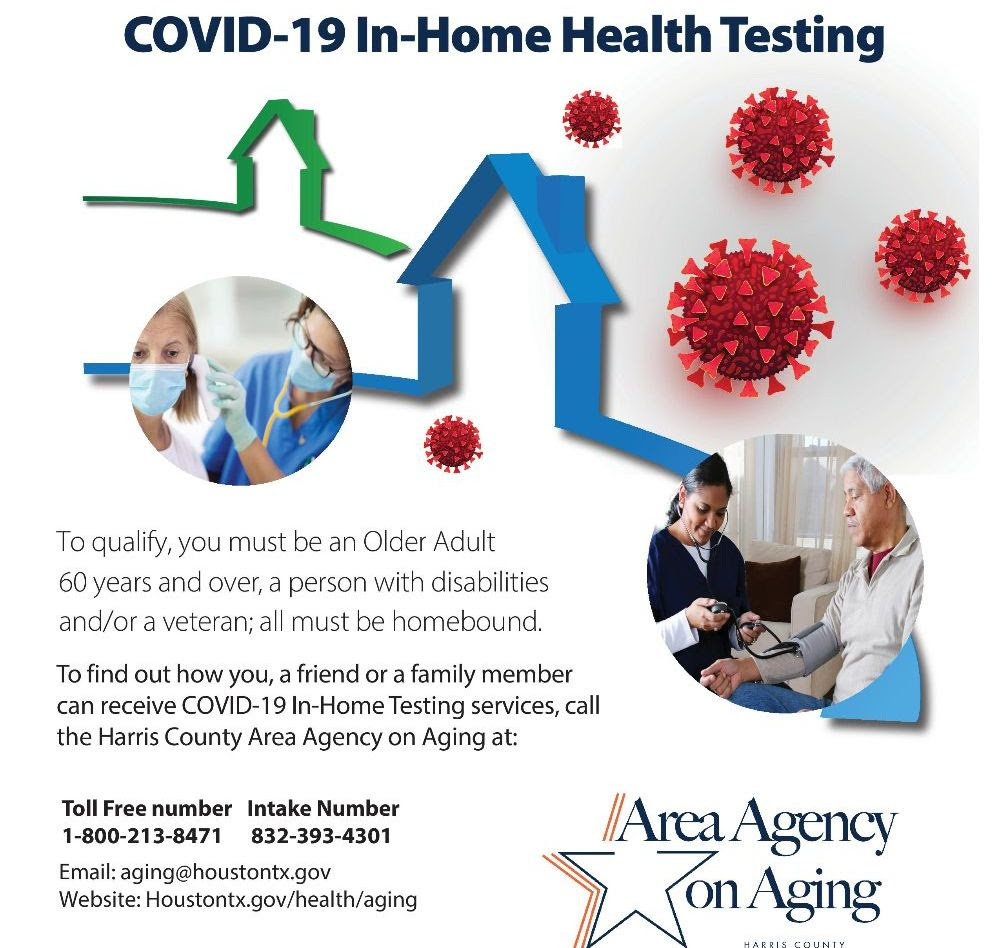 FREE In-Home COVID-19 Testing
Did you know that residents of Harris County are eligible for at-home testing for COVID-19? It's true! You can even schedule larger group testing for your church, neighborhood, or club. Just call 832-393-4301 or toll free 1-800-213-8471 to schedule a time, date, and location.
Mayor Turner's Health Equity Response (H.E.R.) Task Force is partnering with Lemond Kitchen, a local catering company, on a $2.2 million relief program to assist local restaurants and provide meals to Houstonians impacted by COVID-19. Zip codes in District F that qualify: 77036, 77072 and 77099.
Mayor Turner's Health Equity Response (H.E.R.) Task Force has partnered with Comp-U-Dopt, a non-profit, to provide free refurbished laptops to low-income applicants from now until December 30, 2020. The relief fund is part of the $400 million in CARES Act funding provided to the City of Houston.

To apply, click here or call (888) 469-8365.
Housing and Community Affairs Committee Meeting – 11.17.20
Redeployment
Please note: on the following days, we will be delayed in response due to redeployment at City of Houston facilities.
Long Nguyen
Friday, Nov 20th
Monday, Nov 30th
Monday, Dec 7th
Monday, Dec 14th
Tuesday, Dec 15th
Monday, Dec 21st
Na'Shon Edwards, Sr.
Idalid "Idi" Navarro
Thursday, Dec 3rd
Tuesday, Dec 15th
Friday, Dec 18th
Sean Rios
1973-2020
It is with a heavy heart today that we honor Houston Police Sergeant Sean Rios, a 25-year HPD veteran and the fourth officer to die this year. He was remembered as a beacon for younger officers, and a generous soul who loved his family more than anything. Sgt. Rios leaves behind four children, his parents, and a brother. He also leaves behind two cousins who are HPD detectives. We ask that you keep his family and loved ones in your prayers.
Ongoing: WHAM Holiday Toy and Blanket Drive
Registration for the Christmas meal program will end Friday, December 10th.
Register to receive WHAM programs by emailing
ClientServices@WHAMministries.org
RUN FOR A REASON 2021 – Run for WHAM
Registration Deadline: Tuesday, December 1st
To learn more and register, click on the flyer.
HPD Westside PIP Meeting
Thursday, November 19th @ 6:30PM
Join Zoom Meeting
Dial in: 1 346 248 7799
Meeting ID: 943 9650 9308
Passcode: 852112
Eligible Houstonians with disabilities can sign up to receive a
free flu shot
by calling 832-393-4220. The flu clinics will run from 10am-2pm through November 20th. Participants must register prior to visiting one of the sites. More information is available on the
TIRR program website
.
Food Drive @ Good News Church
Saturday, Nov 21
2pm – 5pm
8400 Boone Rd
SPANISH FLYER
Super Neighborhood 25 Meeting
Tuesday, November 24th @ 6:30PM
Join Zoom Meeting
Dial in: 1 346 248 7799
Meeting ID: 829 8390 7045
Passcode: 613634
District F Annual Meeting
Thursday, December 3rd @ 6PM
Join Teams Meeting
Dial in: 1 936 755 1521
Conference ID: 365 503 94#
Winter Wonderland Drive-Thru Food Fair
Save the Date:
Saturday, Dec 12
11am – 1pm
Sign up to volunteer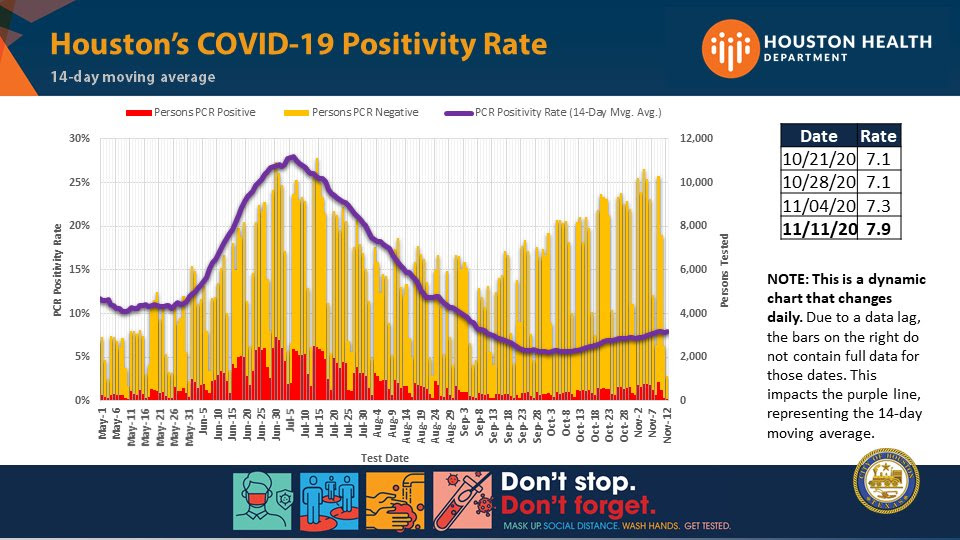 Our updated positivity rate is now at 7.9%, continuing a trend in the wrong direction! Please limit gatherings, wash your hands, wear a mask, and get tested. #BetterTogether #ProtectTheH
For more information, visit