Vol. 3, Issue 8 – 04.15.22
CITY COUNCIL UNANIMOUSLY APPROVES PAID PARENTAL LEAVE FOR HOUSTON EMPLOYEES AFTER DECADE-LONG PUSH
City employees will have access to paid parental leave for the first time beginning in May after a decade-long push to adopt the family-friendly policy that advocates hope will help the city attract and retain working parents.
City Council on Wednesday unanimously approved the new leave policy, which will give workers who have been with the city for at least six months up to 12 weeks of paid leave for the birth, adoption or foster placement of a child. The policy also includes paid time off during pregnancy for certain health matters.
*As reported by the Houston Chronicle. Read full article here. Watch council discussion here.
HOUSTON CONSIDERING SURVEILLANCE CAMERA ORDINANCE FOR BARS, RESTAURANTS TO FIGHT CRIME
Bars and convenience stores could soon be required by the City of Houston to install surveillance cameras and proper lighting outside their business.
The proposal was recommended by the City Attorney and Police Chief as part of the crime reduction initiative 'One Safe Houston,' launched by Mayor Sylvester Turner in February.
This item was ultimatly tagged by three councilmembers. Please click link for Councilmembers comments.
*As reported by Fox Houston. Read full report here. Watch council discussion here.
HOT SPOT TEAM HIGHLIGHT
WEEK OF APRIL 4TH TO 8TH
Total Work Orders Completed: 29
Hotspot of the Week: 6500 Brookwulf
Total Man Hours Worked: 72
Tree Waste: 780 lbs.
Mattresses: 5
Furniture Waste: 15 pieces
Tires: 21
Trash Debris: 350 lbs.
Shopping Carts: 4
Bandit Signs: 211
Landscaping: none
COUNCIL DISTRICT SERVICE FUND CALL OUT
We want to hear from you! We are taking suggestions for projects that need to be funded throughout the district. Please use the links below to submit recommendations for us to review. Based on survey results, submissions will undergo a field investigation to determine feasibility. We will follow up within 60 days with a response on what can move forward. If you have trouble completing any form, please email Districtf@houstontx.gov.
Deadline has been extended to April 30, 2022.
Street Lights: https://form.jotform.com/220624209191146
Let's light up District F together by identifying locations that could use streetlights. Take a look at your neighborhood, parks, intersections, and submit your request here.
General Recommendations: https://form.jotform.com/220765528971162
Use this form to submit recommendations for ARA, Parks, Public Works, public benefit initiatives, etc.
SOLID WASTE MANAGEMENT DEPARTMENT UPDATE
Update as of April 14th
Recycling services are delayed for Week-B. We're working to complete these routes. Leave your container at the curb.
Los servicios de reciclaje esta atrasados para la Semana-B. Estamos trabajando para completar estas rutas. Por favor, deje su contenedor en la acera.
For more information, visit the Neighborhood Depository/Recycling Center web page or call 3-1-1. You may also use the following resources.
Facebook – Updated daily
Link: City of Houston Solid Waste Management – Posts | Facebook
HTX Collects- an app used to update you about your service in real-time. You can also use the link on the website to get an update.
DISTRICT F COUNCIL ITEMS
In addition to the items mentioned above, the following was approved for District F.
Item #40- Ordinance approved for appropriating additional funds to the Professional Engineering Services Contract with Brown & Gay Engineers, Inc.
This project is part of the city's program to upgrade and rehabilitate ground water production facilities to meet the area's water demand and ensure compliance with the Texas Commission on Environmental Quality (TCEQ) regulations. This project consists of the design of rehabilitation of water storage tanks at various locations.
HOUSING AND
COMMUNITY AFFAIRS COMMITTEE MEETING WILL BE HELD ON APRIL 19TH AT 10 AM
The Housing & Community Affairs Committee will meet on Tuesday, April 19, 2022 at 10 a.m. Due to health and safety concerns related to COVID-19, this meeting will offer the option to participate by videoconference or in-person. The location for the committee meeting will be City Hall Council Chamber, 901 Bagby, 2nd Floor, Houston, Texas 77002. The meeting will be open to the public but restrictions regarding masks, allowable room capacity, and seating arrangements may be in place.
The public may sign up to speak by registering at https://www.houstontx.gov/council/committees/speakers-hca.html no later than Monday, April 18, 2022, at 5:00 p.m. Please indicate whether you will speak virtually or will be attending in person so that appropriate attendance instructions can be provided.
The designated presiding officer of the Committee will be physically present in chamber. In accordance with the provisions of Section 551.127 of the Texas Government Code applicable to a governmental body that extends into three or more counties, all other committee members have the option to participate in-person or virtually via Microsoft Teams.
The meeting will be held via MS Teams at https://tinyurl.com/HCAApril22 and will also be broadcast on HTV, the City of Houston's Municipal Channel. Presentation handouts will also be available at https://www.houstontx.gov/council/committees/housing.html when provided.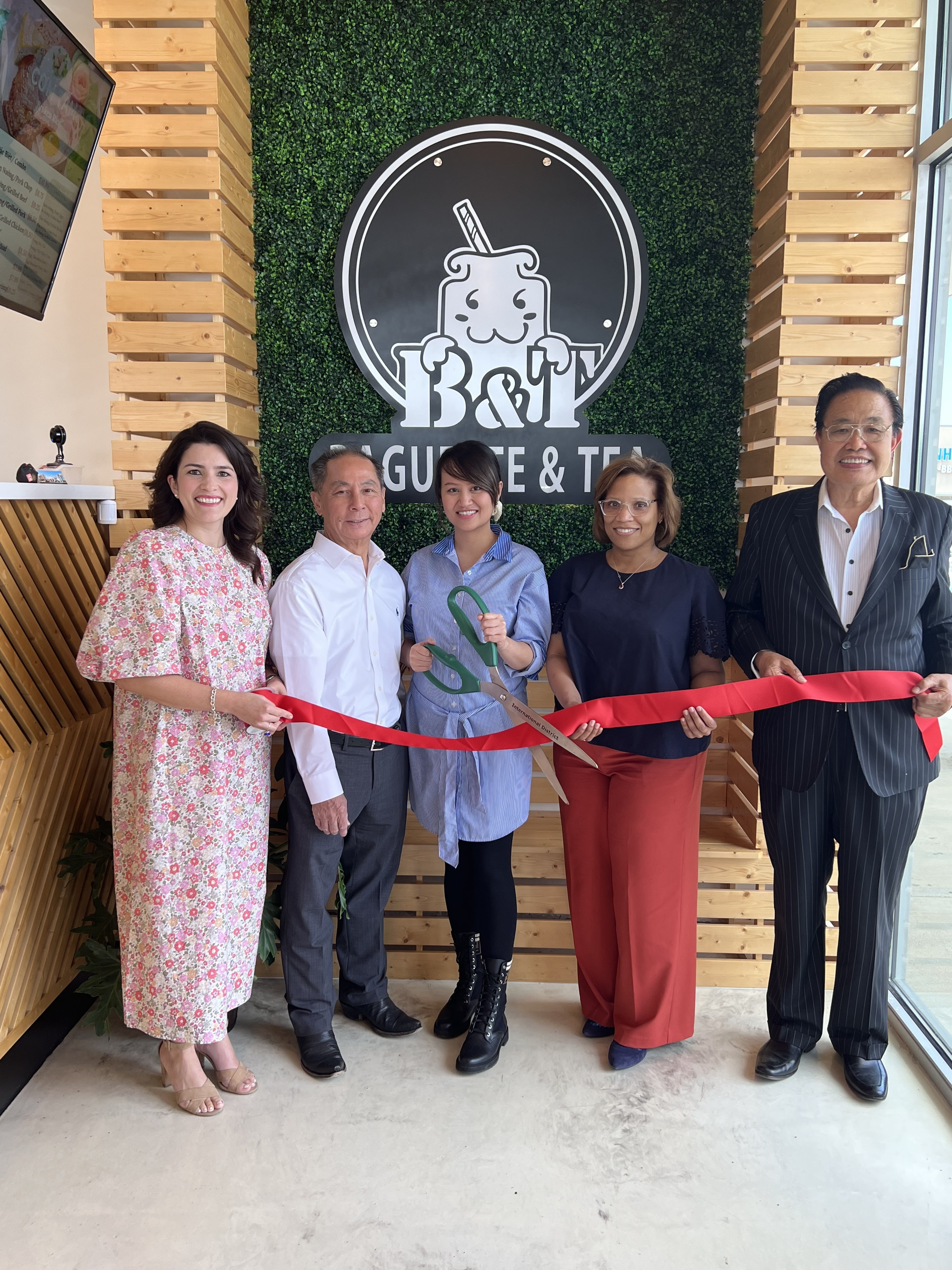 Congratulations to Sherry Ngo, owner of Baguette & Tea, our newest business in District F. Small business is the fabric of our special community. Stop by and support Baguette & Tea on Bellaire & Kirkwood Tuesday-Saturday, 9AM-7PM and Sunday, 9AM-7PM.
On Thursday, Council Member presented a proclamation to Nikki Giovanni, acclaimed American poet, writer, commentator, activist, and educator. One of the world's most well-known African-American poets, her work includes poetry anthologies, poetry recordings, and nonfiction essays, and covers topics ranging from race and social issues to children's literature.
ENGAGE HOUSTON
Houston Public Works has launched a new website which allows the public to follow projects, updates, and leave questions/comments. Please assist us with sharing the link below.
UPCOMING HOUSTON PUBLIC LIBRARY EVENTS
Critical Conversations: Houston, TogetherTuesday, April 19, 2022
6:00pm – 7:00pm
VirtualJoin Shariq Abdul Ghani (Minaret Foundation), Randi Sonenshein (Houston Jewish Collaborative for Racial Justice), Michael Trevino (Trevino & Company), and Larry Payne (Houston Public Library) for a dialogue on the role of coming together in an increasingly polarized environment. Residents of the greater Houston area and beyond are invited to participate in this discussion on working together to make Houston better. Discover how we can inspire unity of the heart and the mind, and possible action items to move the conversation forward.
Saturday, April 23, 2022
11:15am – 3:00pm
Central Library
Join HPL for their first annual Earth Day celebration at the Central Library! Enjoy story time, dance and music, movies, and earth-friendly activities. Explore informative booths, engage in thought-provoking discussions, and take home free tree seedlings. A fun-filled day for the whole family!
Wednesday, April 27, 2022
6:00pm – 7:00pm
Looscan Neighborhood Library
Join HPL for an evening conversation with Marc Cameron, author of Cold Snap and the Jericho Quinn thriller Series at the Looscan Branch. He will be speaking about his new book. Fans of Tom Clancy, James Patterson, and Michael Connelly will enjoy this book and author.
Día: Children's Day / Book Day!Saturday, April 30, 2022 10:30am – 1:00pm Central Library Join us as we celebrate El día de los niños / El día de los libros (Children's Day/Book Day)! Enjoy storytimes, games, crafts and much more!