Vol. 2, Issue 6 – 02.12.21
Black History Month has its roots in 1926, when the Association for the Study of African American Life and History (ASALH) sponsored a national Negro History week, choosing the second week of February to coincide with the birthdays of Abraham Lincoln and Frederick Douglass. The event inspired schools and communities nationwide to organize local celebrations, establish history clubs, and host performances and lectures.

President Gerald Ford officially recognized Black History Month in 1976, calling upon the public to "seize the opportunity to honor the too-often neglected accomplishments of Black Americans in every area of endeavor throughout our history."
From Legacy.com:"From 1944 to 1946, he
(John Saunders Chase)
served in the United States Army in the Philippine Islands where he saw combat in the Asian theater. He was decorated with the American Theater Ribbon, the Asiatic Pacific Theater Ribbon, the Philippine Liberation Ribbon and the World War II Victory Ribbon.
In 1948, he earned a Bachelor of Science in Architecture at Hampton University. He went on to become the first African American to enroll in the University of Texas at Austin School of Architecture. He graduated in 1952. His professional career began that same year when he was appointed assistant professor of architectural drafting at Texas Southern University and founded John S. Chase, A.I.A. Architect, Inc. His early designs included churches, schools, homes and small public buildings.
Chase achieved a number of impressive firsts. He was the first African American licensed to practice architecture in the state of Texas and later was the first African American admitted to the Texas Society of Architects and the Houston Chapter of the American Institute of Architects (AIA). He also co-founded the National Organization of Minority Architects (NOMA) along with 12 other black architects at the AIA convention in Detroit in 1971. When President Jimmy Carter appointed him in 1980, Chase became the first African American to serve on the United States Commission on Fine Arts. His service on the commission included the creation of the Vietnam War Memorial. His architectural imprint can be seen globally. He was commissioned to design the United States Embassy in Tunis, Tunisia. He collaborated on the design of the George R. Brown Convention Center and designed the Washington Technical Institute, Links, Inc., National Headquarters, Delta Sigma Theta National Headquarters, and the Harris County Astrodome Renovation."
"Although Drucie (Chase) was a gifted teacher, because she was only 19 and not 21, she had to seek special permission to teach elementary school. Although professional accreditation was normally not permitted until the age of 21, Drucie was granted the right to teach. She became a devoted teacher at Blackshear Elementary in Austin and Grimes and Dodson elementary schools in Houston. After she retired from teaching, Drucie dedicated herself to raising her three children and assisting her husband in growing his architecture firm. John frequently referred to her as the 'wind beneath my sails.' In addition, she distinguished herself as a hardworking and compassionate community volunteer."
"Drucie was appointed to serve on the boards of the Municipal Arts Commission and the Institute for International Education. She also served on the boards of the Houston Botanic Garden, Emancipation Park Conservancy and Houston Museum of African American Culture. She was a proud member of several organizations including the Houston Chapter of the Links, where she once served as Chapter President, Alpha Kappa Alpha Sorority, Jack & Jill and a charter member of The Moles."
To learn more about Mr. and Mrs. Chase's respective legacies, please click on the hyperlinks at the top of this section.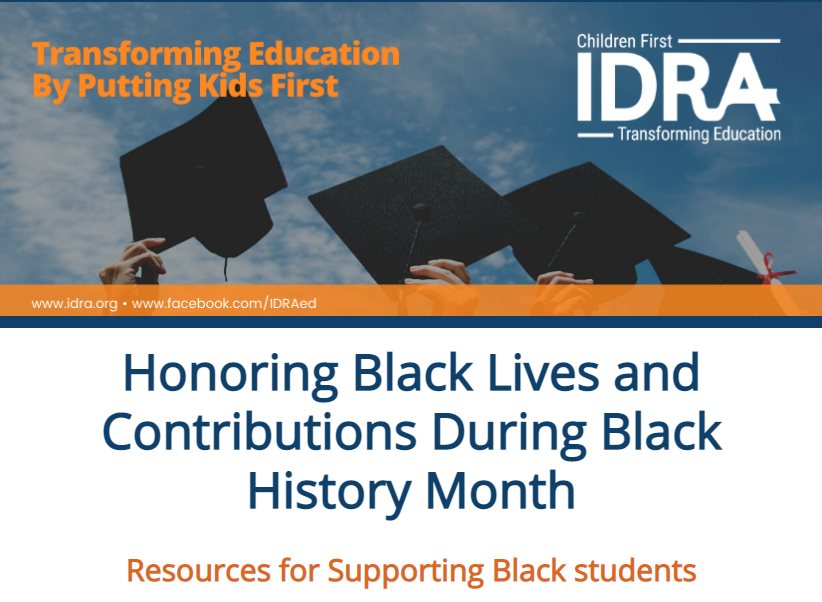 Click on the image above to learn about ways to support Black students who continue to face systemic barriers that prevent them from accessing excellent and equitable schools.
Council Member Thomas and the District F office would like to wish our Asian community a Happy Lunar New Year!
The Year of the Ox represents strength and diligence, and people born in the year of the ox are said to be reliable, inspiring confidence in others. Our hope is for all of us to display these attributes as we work together to lift each other up after a most challenging year. Together, we will come out of this stronger than ever.
We would also like to acknowledge that since the start of the pandemic last year, there has been a spike in crimes targeting the Asian American community. Racially motivated crimes are completely antithetical to what Houston represents and must not be tolerated in any form.
Have a Happy AND SAFE Lunar New Year!
With this prolonged cold weather in Houston projected to last through next week, please consider updating your Winter Car Survival Kit!
Appointments

Appointments for Houston Health Department vaccine clinics are currently full at this time and the department is not currently scheduling new vaccination appointments. When supply increases, the department will post the registration link on this page.

Second Doses

The Houston Health Department continues reaching out by text message and email with information to schedule second doses of COVID-19 vaccine. The messages contain a survey link for people to self-register for a second dose appointment. If a person does not receive a message and confirm their appointment 48 hours before Moderna's recommended 28-day due date, please contact the COVID-19 call center at 832-393-4220. If contact information has changed since a person received their first dose from the health department, please alert the call center.

Who Qualifies
Learn about new Houston Health Department appointment opportunities through email, text message, voice call, or mobile app push notification by registering for the HoustonRecovers subscription of AlertHouston.

To check for updates from other vaccine hubs in Houston and Harris County, click here.
Residents with disabilities who would like more information on the vaccine—please refer to this reference card.
For a very informative discussion on the COVID-19 vaccine, including answers to some of the most frequently asked questions, please view the latest episode (02/11/21) of COVID-19 Talk, hosted by Stephen Williams (Houston Health Department Director), Dr. David Persse (Houston Public Health Authority), and Dr. Sherri Onyiego (Harris County Public Health Authority).
You are invited to participate in a survey to collect information about Covid-19 vaccine eligibility. This online survey should take about 2-10 minutes to complete. Participation is voluntary, and responses will be kept confidential to the degree permitted by the technology being used.
If you qualify for the Covid-19 vaccine under Phase 1A or 1B, please provide the District F office with your information so that we can keep you updated on vaccine availability. This data will be shared with the Houston Health Department.
We are asking that only those who are eligible under Phase 1A or 1B to complete this form. To find out about eligibility, click here.
You have the option to not respond to any questions that you choose. Submission of the survey will be interpreted as your informed consent to participate and that you affirm that you are at least 18 years of age. Immigration status will not be a factor.
Our updated positivity rate is now at 15.1%. Please continue to limit gatherings, wash your hands, wear a mask, get tested, and take your vaccine shot when it is available. #BetterTogether #ProtectTheH
FREE Drive-Thru COVID-19 Testing at Crump Stadium – 12321 Alief Clodine Rd, 77082
NO APPOINTMENT NEEDED
Council Member Thomas Praises Additional City of Houston Rent Relief

HOUSTON, TX — Following the approval of additional funding for rental assistance by City Council, Council Member Tiffany D. Thomas has released this statement:
"This morning, we passed two agenda items that were of enormous importance to the renters in our city who are still struggling amidst the ongoing pandemic. As Chair of the Housing and Community Affairs Committee, I am excited to inform our residents that over $70 million will be dispersed through two programs that will help keep renters in their homes and mitigate the spread of COVID-19. With District F having some of the highest numbers of evictions and highest rates of COVID-19 positivity in the city, I am grateful that this assistance is on the way."
"Item #14 grants funding for round three of the City's Rental Assistance Program, with the new ability to send direct payments to tenants should their landlord refuse to participate in the program. Item #15 grants additional funding to the City's COVID-19 Response Program that provides case management, navigation, and housing stability services to households impacted by the pandemic and are unable to pay rent and utilities. Our administrative partners in these efforts are BakerRipley, Catholic Charities, the Alliance, YMCA of Greater Houston, Houston Area Urban League, Memorial Assistance Ministries, Northwest Assistance Ministries, and Harris County. Additional non-profit organizations are also being considered. In total, including Harris County's contribution, $159 million is being provided for rent assistance, curing 12,000 households who were not able to receive funds during round two of the Rental Assistance Program."
"I would like to thank Mayor Turner and HCCD Director McCasland for bringing these items to the agenda, as well as my Council colleagues for voting unanimously to approve them. My sincere gratitude also goes to our Congressional leaders who fought to ensure that the Consolidated Appropriations Act, which provided this funding, included aid to state and local government to support its residents. Lastly, thank you to our tenants and landlords in need for your patience as we updated these programs. Please stay tuned for more good news as we vote on an eviction moratorium ordinance at next week's Council Meeting."
###
The Houston-Harris County Emergency Rental Assistance Program
is a $159 million joint program of the City of Houston and Harris County, designed to assist renters experiencing housing instability or who are at risk of homelessness as a result of the COVID-19 pandemic. The program is available to renters in Harris County or the City of Houston who:
Have household income at or below 80% of HUD Area Median Family Income (HAMFI), approximately $63,050 for a family of four or $50,450 for a family of two AND
Are experiencing housing instability or are at risk of homelessness; who have past due rent or past due utility bills (electricity, gas, or water) or who have received an eviction notice AND
Have experienced financial hardship as a result of the COVID-19 pandemic: unemployment, reduction in work hours, business closure, or significant new costs.
Renters may begin applying on Thursday, February 25th. For more information, click here.
The Centers for Disease Control and Prevention (CDC) has extended the federal eviction moratorium through March 31.
In order to be covered by this moratorium, you must sign and submit a declaration to your landlord. The updated moratorium and declaration are available here in English, Spanish, Vietnamese, Chinese, Arabic, Urdu, and French.
Beginning on March 1 through March 14, eligible businesses in Houston, in addition to Atlanta, Chicago, Detroit and Philadelphia, can apply for a $10,000 grant at www.ComcastRISE.com. A total of 100 grants in Houston, or 500 grants overall, will be awarded in May 2021. Comcast RISE is a multi-year, multi-faceted initiative launched in October 2020 that initially focused on black-owned, small businesses and then extended to BIPOC-owned to help those hardest hit by COVID-19. To view the rest of this press release, click here. To view the press conference, click on the image above.
Desde el 1 de marzo hasta el 14 de marzo, las empresas elegibles en Houston, además de Atlanta, Chicago, Detroit y Filadelfia, pueden solicitar una subvención de $ 10,000 en www.ComcastRISE.com. Un total de 100 subvenciones en Houston, o 500 subvenciones en total, se otorgarán en mayo de 2021. Comcast RISE es una iniciativa multianual y multifacética lanzada en octubre de 2020 que inicialmente se centró en pequeñas empresas de propiedad negra y luego se extendió a Propiedad de BIPOC para ayudar a los más afectados por COVID-19. Para ver el resto de este comunicado de prensa, haga clic aquí. Para ver la conferencia de prensa, haga clic en la imagen de arriba.
Bắt đầu từ ngày 1 tháng 3 đến ngày 14 tháng 3, các doanh nghiệp đủ điều kiện ở Houston, ngoài Atlanta, Chicago, Detroit và Philadelphia, có thể đăng ký tài trợ $ 10.000 tại www.ComcastRISE.com. Tổng cộng 100 khoản tài trợ ở Houston, hoặc 500 khoản tài trợ tổng thể, sẽ được trao vào tháng 5 năm 2021. Comcast RISE là một sáng kiến ​​nhiều năm, nhiều mặt được đưa ra vào tháng 10 năm 2020, ban đầu tập trung vào các doanh nghiệp nhỏ thuộc sở hữu của người da đen và sau đó mở rộng sang BIPOC thuộc sở hữu để giúp những người bị ảnh hưởng nặng nề nhất bởi COVID-19. Để xem phần còn lại của thông cáo báo chí này, hãy nhấp vào đây. Để xem buổi họp báo, bấm vào hình trên.
This year, we are supporting 5 non-profit organizations in District F with matching funds through the City Connections Case for Kids program.

Earlier this week, Council Member Thomas presented a $10,000 check to Bayou City Fencing Academy's Spirit of Youth Fencing Foundation. Often referred to as "physical chess," fencing teaches tactical skills, challenging each student to think quickly to outsmart their opponent. Many top tier universities around the country offer scholarships for fencers. The Spirit of Youth Fencing Foundation teaches fencing to kids identified as at-risk and has an afterschool program with HISD. For more information, click here.

Are you interested in applying for CASE for Kids funding to expand programming for youth? Visit: https://hcde-texas.org
Anti-Litter Pickers
This week, our office began distributing anti-litter pickers to community members who had made requests. To request pickers for your community, please fill out this form.
Thank you to our community leaders, Callie Markantonis and Doug Smith, for coming down to our office at City Hall to pick up the pickers on behalf of residents who had requested them in Tanglewilde and Brays Village.
Please provide up to date information about your HOA in order for us to keep in contact with you. Click on the image to fill in your information.
For those interested in being on this year's Steering Committee for the Youth Conference, please click on the image and fill out the form . This form is intended for youth ages between 15 – 18 years old. After you have filled out this form, please send your resume and cover letter to Idalid.Navarro@houstontx.gov.