Vol. 2, Issue 4 – 01.28.21
The Houston Health Department has launched an online registration portal allowing Houstonians at the highest risk of coronavirus disease to schedule appointments to receive free COVID-19 vaccinations. People age 65 and older and people age 18 and older with at least one chronic medical condition putting them at increased risk of severe illness and death may sign up to get the vaccine. These groups are prioritized as Phase 1B of the State of Texas' vaccine distribution plan.

Appointments are also available through the health department's COVID-19 call center by calling 832-393-4220. The call center is open Monday through Saturday from 7:30 a.m. to 4 p.m. with hours extended until 5 p.m. on Tuesdays and Thursdays.

However, all appointments for Houston Health Department vaccine clinics are filled for the remainder of January 2021, based on the department's current vaccine allotment, and the department is not taking additional appointments at this time. The department will announce additional vaccination opportunities at multi-service centers, health centers, community locations, and mobile units as supply increases. We will include announcements here in our newsletter, accordingly.

If you received a COVID-19 vaccine from the Houston Health Department, they will contact you to provide information about where to schedule your second dose within the appropriate timeframe. Moderna's second dose is due 28 days after the first dose, with a 4-day grace period. Although people who received the first dose will be contacted, you may also contact their call center at (832) 393-4220 and/or check their website a few days ahead of your second dose timeframe regarding appointments. The federal and state government guarantees second doses will be shipped to providers for everyone who received the initial dose.
Learn about new Houston Health Department appointment opportunities through email, text message, voice call, or mobile app push notification by registering for the HoustonRecovers subscription of AlertHouston.

To check for updates from other vaccine hubs in Houston and Harris County, click here.
Residents with disabilities who would like more information on the vaccine—please refer to the reference card below.
For a very informative discussion on the COVID-19 vaccine, including answers to some of the most frequently asked questions, please view the latest episode (1/28/21) of COVID-19 Talk, hosted by Stephen Williams (Houston Health Department Director), Dr. David Persse (Houston Public Health Authority), and Dr. Sherri Onyiego (Harris County Public Health Authority).
You are invited to participate in a survey to collect information about Covid-19 vaccine eligibility. This online survey should take about 2-10 minutes to complete. Participation is voluntary, and responses will be kept confidential to the degree permitted by the technology being used.
If you qualify for the Covid-19 vaccine under Phase 1A or 1B, please provide the District F office with your information so that we can keep you updated on vaccine availability. This data will be shared with the Houston Health Department.
We are asking that only those who are eligible under Phase 1A or 1B to complete this form. To find out about eligibility, click here.
You have the option to not respond to any questions that you choose. Submission of the survey will be interpreted as your informed consent to participate and that you affirm that you are at least 18 years of age. Immigration status will not be a factor.
Our updated positivity rate is now at 17.1%. This is still way too high, indicating the ongoing uncontrolled spread of COVID-19 among our family, friends, and community. Please continue to limit gatherings, wash your hands, wear a mask, get tested, and take your vaccine shot when it is available. #BetterTogether #ProtectTheH
FREE Drive-Thru COVID-19 Testing at Crump Stadium – 12321 Alief Clodine Rd, 77082
NO APPOINTMENT NEEDED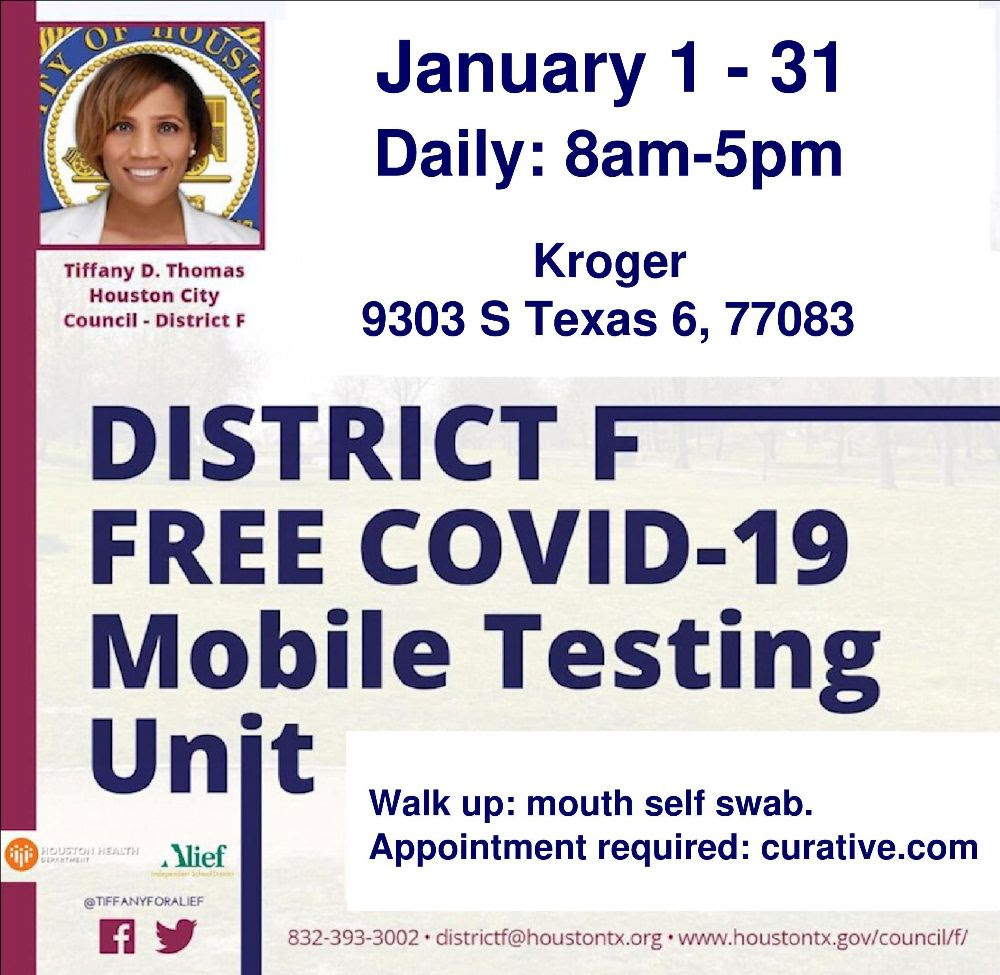 FREE Drive-Thru COVID-19 Testing at Kroger – 9303 S Texas 6, 77083
APPOINTMENT REQUIRED: CURATIVE.COM
FREE Drive-Thru COVID-19 Testing at Kroger – 1801 S Voss Rd, 77057
APPOINTMENT REQUIRED: CURATIVE.COM
FREE In-Home COVID-19 Testing
Did you know that residents of Harris County are eligible for at-home testing for COVID-19? It's true! You can even schedule larger group testing for your church, neighborhood, or club. Just call 832-393-4301 or toll free 1-800-213-8471 to schedule a time, date, and location.
In honor of School Board Appreciation Month, Council Member Thomas presented a proclamation to the trustees of the Alief Independent School District and the Houston Independent School District on Tuesday, January 26th. We thank you for your diligence and for your dedication to the best interests of our teachers, parents, and students.
On Tuesday, January 26th, the Housing and Community Affairs Committee, chaired by Council Member Thomas, convened for the first meeting of 2021. To view the meeting, click on the image above. To view the agenda and presentation discussed in the meeting, click here..

Next Meeting: Wednesday, February 3rd at 2pm (special called meeting to discuss 9% Housing Tax Credit applications). To sign up for public comments, please send an email to Cherrelle.Duncan@houstontx.gov by 5pm on Monday, February 1st.
Wednesday, January 27th, 2021 marked the 76th anniversary of the liberation of Auschwitz-Birkenau. International Holocaust Remembrance Day, designated by the United Nations, honors the 6 million Jewish victims of the Holocaust, along with millions of others who were also victimized by the Nazis. #WeRemember
We would like to send a big thank you to the Houston Humane Society, Alief ISD, and our wonderful volunteers for making yesterday's pet pantry event a huge success! In all, 15,166 meals for pets were distributed.
Houston Community Fridges is a campaign started by a group of Houstonians inspired by others in different states with the purpose of providing fresh food, clean water, and other products for the less fortunate.
Update: the Alief Fridge is now located at D'Hope Services (12131 Beechnut St, Suite A1, 77072) on Sundays from 10AM-2PM.
To view volunteer duties, click here. For the list of donations that are accepted, click here. For more information, email Vanessa Lipscomb or call (713) 498-5418.
Council Member Thomas Applauds Removal
of Human Trafficking Victims From Injunction
HOUSTON, TX — Following Harris County Attorney Christian Menefee's decision to remove 36 suspected sex workers from a proposed injunction targetting Bissonnet Track, Houston City Council Member Tiffany D. Thomas has released this statement:
"I would like to thank Harris County Attorney Christian Menefee for delivering on his promise to reform our county's approach to criminal justice with this thoughtful decision. I completely agree that suing these victims of human trafficking would be fruitless in our fight against the sex trade."

"The proposed injunction has long been considered Draconian, and protecting these victims is a great first step in addressing the problem on Bissonnet Track. This sensitive issue is of great interest to concerned District F residents and I look forward to following the developments of this case with HC Attorney Menefee now at the helm."
###
UPDATE: All BakerRipley Rental Assistance funds have been committed at this time. BakerRipley encourages all Tenants needing assistance to complete the application.
President Joe Biden has signed an Executive Order that asks the Centers for Disease Control and Prevention (CDC) to extend the federal eviction moratorium, which is set to expire on Jan. 31, through at least March 31.

The executive order also calls on federal housing agencies to extend the foreclosure and eviction moratorium for federally backed mortgages at least through March, and allow forbearance applications to continue for federally-backed mortgages.
In order to be covered by this moratorium, you must sign and submit a declaration to your landlord. The updated moratorium and declaration are available here in English, Spanish, Vietnamese, Chinese, Arabic, Urdu, and French.

If the Rental Assistance Program does not cover the full amount that you owe to your landlord, please ask your landlord to enter into a payment plan. Templates are available here. For guidance on how to speak with your landlord about this topic, click here. For additional tenant resources, click here.
Texas Eviction Diversion Program (TEDP)

The TEDP may provide
up to 6 months of rental assistance
. For more details, including eligibility, click
here
. For the English and Spanish brochure, click on the image. For the brochure in many other languages, click
here
. The Texas Supreme Court has
extended this program through March 15th
.
Please assist the City and our office by continuing to submit service requests to 311 and saving your service request numbers. By providing us with the service request numbers and photos, we will be able to work more efficiently on your behalf.

Submit requests by dialing 311, using the 311 website, or emailing 311@houstontx.gov.
Please provide up to date information about your HOA in order for us to keep in contact with you. Click on the image to fill in your information.
For those interested in being on this year's Steering Committee for the Youth Conference, please click on the image and fill out the form . This form is intended for youth ages between 15 – 18 years old. After you have filled out this form, please send your resume and cover letter to Idalid.Navarro@houstontx.gov.
Please continue to let our HOT Team know where the illegal dumping hot spots are in our district.
Report illegal dumping to 311 first.
After you receive the confirmation email with the service request number, forward the email to DistrictFHot@houstontx.gov. If you have photos, please send them as well.
The HOT team will not pick up items located on private property.
Junk Waste not accepted: roofing, shingles, bricks, plaster, concrete, and large truck tires.
Tree Waste not accepted: lumber and treated wood.