Vol. 2, Issue 3 – 01.21.21
The Houston Health Department has launched an online registration portal allowing Houstonians at the highest risk of coronavirus disease to schedule appointments to receive free COVID-19 vaccinations. People age 65 and older and people age 18 and older with at least one chronic medical condition putting them at increased risk of severe illness and death may sign up to get the vaccine. These groups are prioritized as Phase 1B of the State of Texas' vaccine distribution plan.

Appointments are also available through the health department's COVID-19 call center by calling 832-393-4220. The call center is open Monday through Saturday from 7:30 a.m. to 4 p.m. with hours extended until 5 p.m. on Tuesdays and Thursdays.

However, all appointments for Houston Health Department vaccine clinics are filled for the remainder of January 2021, based on the department's current vaccine allotment, and the department is not taking additional appointments at this time. The department will announce additional vaccination opportunities at multi-service centers, health centers, community locations, and mobile units as supply increases. We will include announcements here in our newsletter, accordingly.

If you received a COVID-19 vaccine from the Houston Health Department, they will contact you to provide information about where to schedule your second dose within the appropriate timeframe. Moderna's second dose is due 28 days after the first dose, with a 4-day grace period. Although people who received the first dose will be contacted, you may also contact their call center at (832) 393-4220 and/or check their website a few days ahead of your second dose timeframe regarding appointments. The federal and state government guarantees second doses will be shipped to providers for everyone who received the initial dose.
Learn about new Houston Health Department appointment opportunities through email, text message, voice call, or mobile app push notification by registering for the HoustonRecovers subscription of AlertHouston.

To check for updates from other vaccine hubs in Houston and Harris County, click here.
Residents with disabilities who would like more information on the vaccine—please refer to the reference card below.
For a very informative discussion on the COVID-19 vaccine, including answers to some of the most frequently asked questions, please view the latest episode (1/21/21) of COVID-19 Talk, hosted by Stephen Williams (Houston Health Department Director), Dr. David Persse (Houston Public Health Authority), and Dr. Sherri Onyiego (Harris County Public Health Authority).
If you qualify for the COVID-19 vaccine under Phase 1A or 1B and are homebound, please click on the form and provide the District F office with your information so that we can keep you updated on vaccine availability. This data will be used by the Houston Health Department at a later time.
We are asking that only those who are eligible under Phase 1A or 1B to complete this form. To find out about eligibility, click here.
Our updated positivity rate is now at 17.4%. Although that's a small drop from last week, it's still way too high, indicating ongoing uncontrolled spread of this deadly virus among our family, friends, and community. Please continue to limit gatherings, wash your hands, wear a mask, and get tested. #BetterTogether #ProtectTheH
FREE Drive-Thru COVID-19 Testing at Crump Stadium – 12321 Alief Clodine Rd, 77082
NO APPOINTMENT NEEDED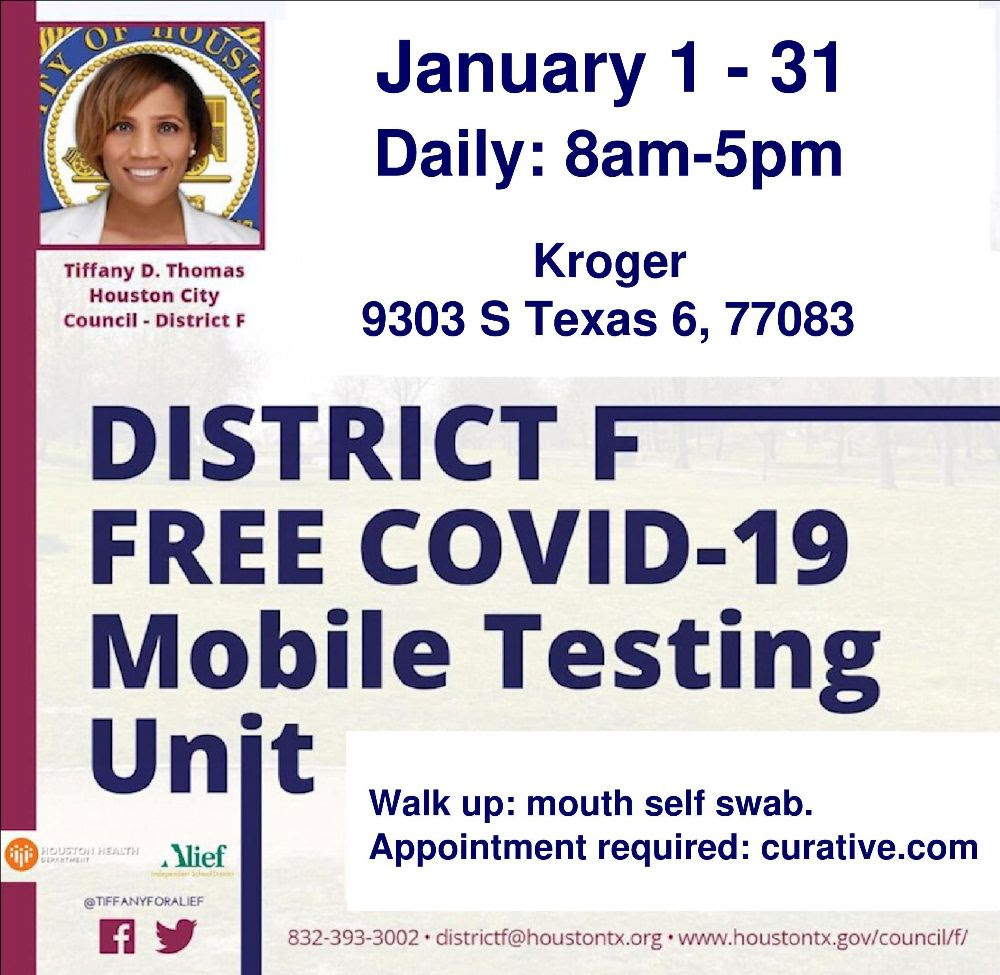 FREE Drive-Thru COVID-19 Testing at Kroger – 9303 S Texas 6, 77083
APPOINTMENT REQUIRED: CURATIVE.COM
FREE Drive-Thru COVID-19 Testing at Kroger – 1801 S Voss Rd, 77057
APPOINTMENT REQUIRED: CURATIVE.COM
FREE In-Home COVID-19 Testing
Did you know that residents of Harris County are eligible for at-home testing for COVID-19? It's true! You can even schedule larger group testing for your church, neighborhood, or club. Just call 832-393-4301 or toll free 1-800-213-8471 to schedule a time, date, and location.
For the Spanish flyer, click
here
. We are looking for volunteers to assist with this event. If you are interested in volunteering, please send an email to
Idalid.Navarro@houstontx.gov
.
UPDATE: All BakerRipley Rental Assistance funds have been committed at this time. BakerRipley encourages all Tenants needing assistance to complete the application.
President Joe Biden has signed an Executive Order that asks the Centers for Disease Control and Prevention (CDC) to extend the federal eviction moratorium, which is set to expire on Jan. 31, through at least March 31.

The executive order also calls on federal housing agencies to extend the foreclosure and eviction moratorium for federally backed mortgages at least through March, and allow forbearance applications to continue for federally-backed mortgages.
In order to be covered by this moratorium, you must sign and submit a declaration to your landlord. The updated moratorium and declaration are available here in English, Spanish, Vietnamese, Chinese, Arabic, Urdu, and French.

If the Rental Assistance Program does not cover the full amount that you owe to your landlord, please ask your landlord to enter into a payment plan. Templates are available here. For guidance on how to speak with your landlord about this topic, click here. For additional tenant resources, click here.
Texas Eviction Diversion Program (TEDP)
The TEDP may provide
up to 6 months of rental assistance
. For more details, including eligibility, click
here
. For the English and Spanish brochure, click on the image. For the brochure in many other languages, click
here
. The Texas Supreme Court has
extended this program through March 15th
.
Please assist the City and our office by continuing to submit service requests to 311 and saving your service request numbers. By providing us with the service request numbers and photos, we will be able to work more efficiently on your behalf.

Submit requests by dialing 311, using the 311 website, or emailing 311@houstontx.gov.
Please provide up to date information about your HOA in order for us to keep in contact with you. Click on the image to fill in your information.
Our office is currently accepting proclamation submissions for Black History Month. If you would like to nominate a community member or organization that is deserving, we want to know! Please email our office at DistrictF@houstontx.gov.
Please continue to let our HOT Team know where the illegal dumping hot spots are in our district.
Report illegal dumping to 311 first.
After you receive the confirmation email with the service request number, forward the email to DistrictFHot@houstontx.gov. If you have photos, please send them as well.
The HOT team will not pick up items located on private property.
Junk Waste not accepted: roofing, shingles, bricks, plaster, concrete, and large truck tires.
Tree Waste not accepted: lumber and treated wood.
Funded through our office's Council District Service Fund (CDSF), new sidewalks and ramps have been constructed on High Star Dr, as well as a new curb for the median at Kirkwood Rd and Meadowglen Ln.
Please be advised that an off-road detention pond maintenance project will commence on January 27th near the end of 9400 Coventry Square Dr, 77099. The maintenance work is expected to last 60 days.
Parking of vehicles on any unimproved surface in the front or side yard within single-family residential areas will be prohibited where a Prohibited Yard Parking Requirement Area has been established. Violation of this is considered a misdemeanor and results in a fine of $150 a day. For more information on Prohibited Yard Parking, including how homeowner's associations and civic clubs can apply, click here.
Please be advised that a protected left-turn signal has been implemented for drivers turning left at the intersection of Shadowbriar Dr and Richmond Ave. After our office was alerted of the numerous accidents that recently occurred here, we requested a traffic study and the investigation conducted by Public Works' Traffic Operations division found that 7 accidents had taken place at this intersection in the last 12 months. Public Works deemed this intersection unsafe and began implementing the signal change last week.
Please be advised that there is an investigation into the shooting of a woman at 14027 Westheimer Rd, 77077 around 7pm on Tuesday, January 19th, 2021. For more information, click here.